Reviving the classics is ubiquitous across every industry. From Dodge re-imagining the old Dart, to Disney mystifying new audiences with unforgettable stories. Heck, you can still be scolded by the unfortunate few who claim "Disco never died." But amongst all the inadequate and unsuitable fads, there remain treasures from when quality was a foremost trait.
Nestled in the Southern coasts of Los Angeles, local artist and designer, Randy Gomez, holds this sentiment true.
As a semi-retired camera man and owner of Hollywood Vintage Trailers, Randy spends his days working on his passion. Reinvigorating classic recreational vehicles – praising historical ingenuity and equipping them for a modern lifestyle.
"I redesign vintage trailers in a way I think they should have been designed in the first place." says Gomez. "The exteriors were absolute gorgeous. However, I saw that the insides really weren't ergonomically set-up… I had a different idea – anyway – of how they should be built."
Graduating from Otis Art Institute with a degree in design and art, Randy ended up falling in love with ceramics. Hoping to make a career from his education, Randy took the chance to open his own gallery and pottery store. It wasn't until a close friend asked if Gomez could be an extra hand on a TV and film set, where Randy would have his first glimpse into the world of restoring trailers.
"I made more money on my first day of film and television work than my pottery shop would make in a month!" Randy happily chuckled. From here, Gomez rethought his plans of an art career and dove head-first into TV and Film.
Already being handy with restoring collector cars, Randy went on to renovate his first vintage trailer – a 1965 Airstream Safari, which he intended to be used on TV/film sets to view "dailies"; an industry term used to describe the unedited footage reviewed at the end of a shift.
This original trailer design is still around today. However, it has been re-purposed and sold due to the abuse such a vehicle sustains storing film equipment. His fellow coworkers deemed his restoration too beautiful for this sort of torture. Although the Safari is no longer owned by Randy, the glorious 22-ft Airstream can be still be viewed on the Hollywood Vintage Trailer website.
This redesign sparked interest within Randy to start rebuilding more vintage trailers. Originally his business started out by sourcing salvaged RVs and finding a buyer, however since receiving more exposure, Hollywood Vintage Trailers now operates solely off of commissioned clients. With close to 15 trailers completed and in process of completion, Randy has put his artistic vision on the map.
So what made vintage trailers so special to Randy?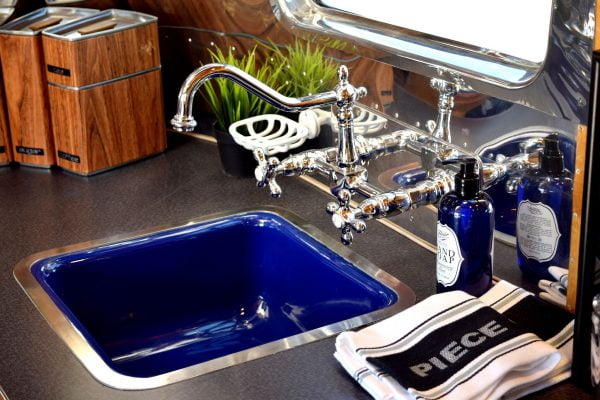 "It's not just the restoration process [that is appealing to me], but Airstreams in general are built beautifully." He explains, "I have a sweet spot for late 40's to mid-60's trailers. After the 60's, just like with classic cars, materials and builds started to be focused towards cost effectiveness instead of craftsmanship."
All of his restorations look to preserve the je ne sais quoi present in their original era (cast handles, riveted segments, curvaceous exteriors, etc.), while redesigning the footprint to be open and inviting. Much like a studio apartment, you won't see Randy walling off his stunning bedrooms or eye-catching kitchens.
"Each design presents their own challenges, and it always seems like the last design has been the best. Each trailer you try new things – that might work and might not – but you apply what you learn to the next one."
Currently, Randy is working on a 1953 Clipper. Close to completion, this commission has a custom awning requested to feature retractable arms. While this addition is possible, occasionally in pursuit of authentic integrity, Gomez will put his foot down when it comes to client's grandiose suggestions. "You wouldn't put a new ford engine in a 1955 Chevy. It would just be alien to me. I want all of my restorations to speak to their iconic American creativity." He explains.
All fabric and carpentry is representative of the year each trailer was manufactured, paying homage to designers of the past. You can see this most prominently represented in Hollywood Vintage Trailer's 1948 Spartan Manor rebuild. Showcasing the Art Déco style prevalent of the late 30's and 40's, this stunning royal blue accented trailer features double doors, disappearing TV, as well as vintage fixtures and appliances. Randy didn't come right out and say it, but if you were to force him, this would be his favourite restoration to date.
Randy doesn't just focus on trailers however. He is a fan of anything shiny on wheels! Here you can see his '57 Desoto Coupe pulling a colour-matching 1962 Shasta Airflyte. He also owns a '55 Nomad, a '57 half-ton Chevy Pickup, and a '62 Porsche 356 Cabriolet.
You can follow Hollywood Vintage Trailer's work on Instagram and Facebook, where Randy posts his current and past projects regularly. As well, prospective buyers can find more information on the Hollywood Vintage Trailers website, complete with current commissions, available trailers, and contact information.