Oh Canada, our home and native land – of fabulous and flavourful food!
For many years, Canada was commonly called a 'mosaic', because it was made up of so many different pieces that came together to form one beautiful picture and people. That's what these crisps are – a beautiful combination of ingredients that represent Canada from coast to coast in a single cracker – and forged in the fire (twice!)
With so much diversity within its welcoming borders, it's no wonder that Canada is a one-stop culinary adventure, with influences from all different cultures. From East to West, Acadian to Asian, you're about to taste them all (or at least a whole lot) in one fancy looking little cracker that we know you'll recognize from many a notable charcuterie board. If Canada were a cracker, this would be it!
Masters of mobile munchies, Martin and Gail Aller-Stead were inspired by BC's own Lesley Stowes who you'll know instantly when we reveal her as the Lesley Stowe's of Raincoast Crisps. They've got a fantastic crunch from the double-baking technique (like biscotti) and rich complex taste from the variety of ingredients but that seem to pair effortlessly with everything and anything on your board. And they're always the first cracker to run out!
True to their roving, RV roots, Martin and Gail have put their own just-as-Canadian spin on these crackers and have taken an imaginary cross-Canada trip with scrumptious stop-offs in Marmalade Creek in BC, Tomato Creek and Batter Junction in Alberta. They took a bite out of Nut Mountain in Saskatchewan, Flour Falls in Manitoba, Apple Hill and visited Cheeseborough in Ontario, Lac Snack and Ile Spread in Quebec, Cracker Island and Board Island in Nova Scotia, and final stops in Platter Cove, Bishop's Bread and Cheese, and Garnish in Newfoundland!
Is this going over-board? We found the BEST idea we've seen all Covid from a local artisan. J. Johnson in Bancroft, ON who made the locally sourced 6 foot live edge charcuterie board you see in some of the pictures below (Can you believe we scored it for $30? AND we helped support a local artisan – win, win, win!) In the area and want one of your own? Check out the Vintage on Hastings Facebook page to inquire!
If you haven't guessed the Covid-friendly angle? It keeps you 6 feet apart!
Galley Kitchen's Easy RV Artisanal Crisps (Raincoast Crisps Inspired Recipe!)
Adapted from Dinner with Julie and Constantly Cooking with Paula Roy
Yield: About 80 – 90 crisps
Suggested Equipment: 4 mini loaf pans, cooling racks for baking, and a tomato slicing knife
*Editor's Note: Provided measurement translations are approximate
Ingredients
Butter to prepare the 4 mini loaf pans
250 g all purpose flour (Just under 2 cups)
12 g baking soda (1 rounded tablespoon)
8 g salt (1 ½ teaspoons)
480 ml buttermilk (see suggested substitute below) (just under 2 cups)
55 g brown sugar (1/4 cup)
30 ml maple syrup (2 tbsp) OR 50 ml marmalade (3 ½ tbsp)
145 g raisins OR dried cranberries (just under 1 cup)
50 g pecan pieces (optional) (2/5 cup)
32 g pumpkin seeds (1/3 cup)
40 g sesame seeds (just under 1/3)
40 g raw flax seeds (just under 1/3 cup)
15 ml fresh rosemary (chiffonade) (approx. 1 tbsp)
First Bake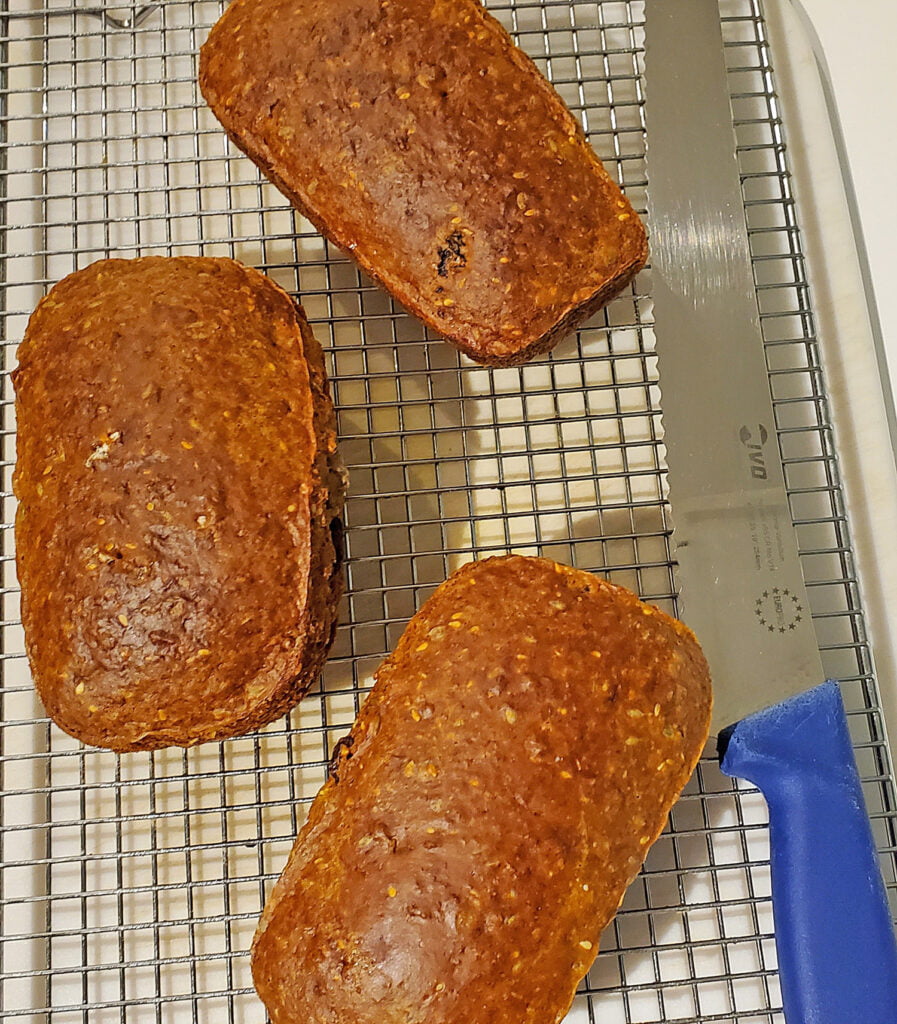 Pre-heat oven to 350 F and centre the oven racks (equal distance from top and bottom for even cooking!)
Butter and flour 4 mini loaf pans and set aside (cupcake tins will also work for a round shape!)
Combine and evenly stir flour, baking soda, salt, and brown sugar in a large bowl
Add the maple syrup or marmalade with the buttermilk in a bowl and stir to evenly combine. Set aside.
Measure all seeds (and optional nuts) together in a bowl and set aside.
Chop the fresh rosemary into a fine chiffonade to create a 15 ml volume. Add to the dry mix and combine evenly.
Add raisins or dried cranberries to the dry mix. Use your fingers to separate and evenly distribute. Add the seeds and stir to mix evenly.
Pour buttermilk/maple syrup or marmalade mix into the dry mix. Using a spatula, stir together a with a few strokes.
Pour the batter into the mini loaf pans until they are each ¾ full. Tap the loaf pans 4 or 5 times on countertop to ensure no air gaps.
Bake for about 30 minutes (or until tester comes out dry)
Place the loaf pans on the cooling racks. Release the loaves from the pans as soon as they are able to come out clean and easily (after about 10 minutes) and place them directly onto the cooling racks. Allow the loaves to cool further for about 20 minutes.
When they have cooled sufficiently to be comfortable to the touch, place the loaves (still on the cooling racks) in the refrigerator and chill for 45 minutes
Second Bake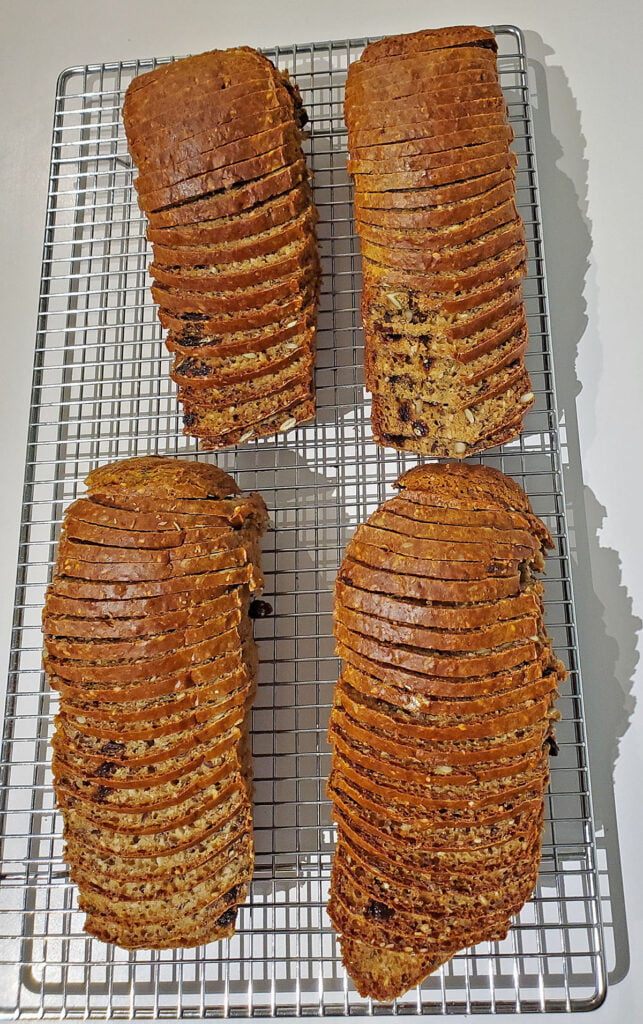 Set oven to 300 F
Remove the cooled loaves from the refrigerator and place on countertop
Using a "tomato knife", cut the loaves into 4-5 mm thin slices (approximately 24 slices per loaf)
Arrange the slices flat on the cooling racks, allowing for a little space between each (so heat can circulate)
Place the cooling racks in the oven and bake for 12-15 minutes or until crisp (may have to do this in batches so the crackers aren't overcrowded)
Remove racks of crisps from oven, place on countertop, and allow to cool completely
Note: Feel free to adapt the amount or kind of seeds and nuts used. Some people enjoy a 'seedier' crisp, or more raisins or marmalade. Our preference is to be more generous with the marmalade and seeds and omit the nuts. You may prefer slivered almonds instead of pecan morsels. (Editor crushed some walnut pieces she had lying around – yum!)
No Buttermilk? No Worries!: Pour 420 ml (just under 2 cups) of homogenized milk into a bowl and add 60 ml of lemon juice (1/4 cup). Let sit for 15 minutes to thicken, and gently stir before use.
The Editor's (slightly uneven!) Cut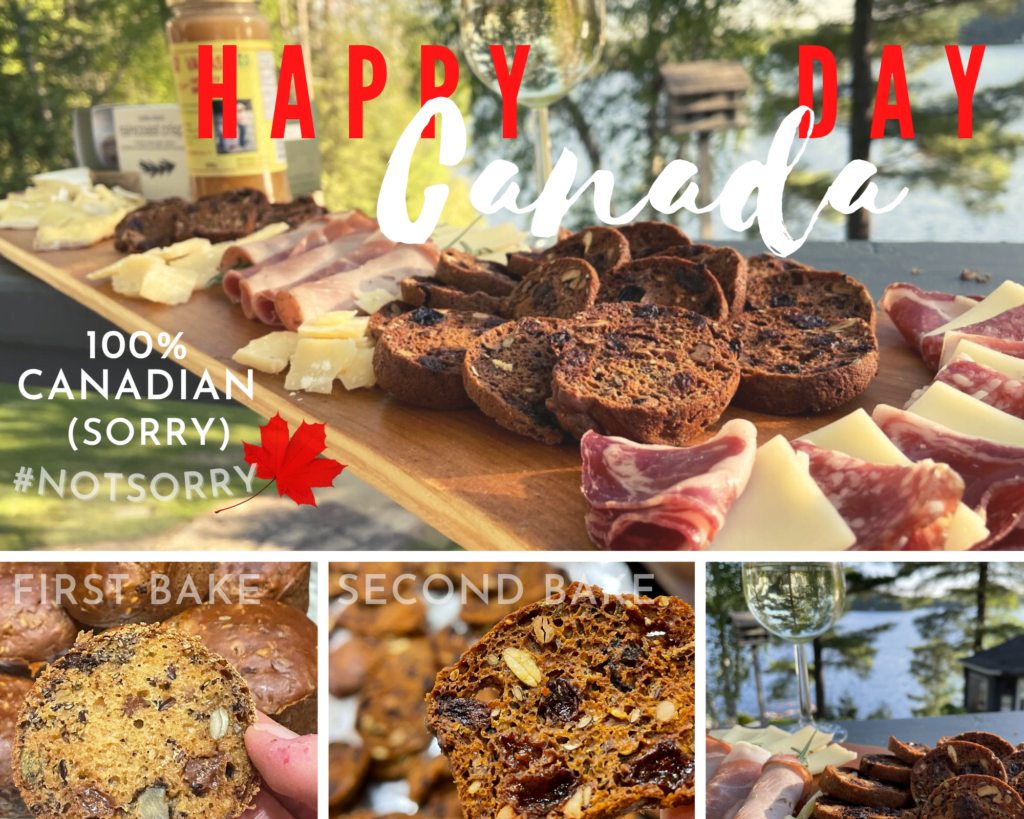 It was maybe not so neat, nor thin as the pros she was inspired by – but these were still DELISH and disappeared in very short order by the 'camera crew' (read: her family) and heard no complaints!
The Aller-Stead's created an all-encompassing Cross-Canada Charcuterie Board which inspired some Explorer RV employees (cough – yours truly, the editor!) to make their own versions of this board inspired by the parts of Canada they hail from, love and live in on a daily basis! In this editor's case, she is typing this from 'cottage country' somewhere in the Haliburton Highlands not too far from Algonquin Park! (And wondering where all the crackers went…)
However, in our love for this great land we live in, we whole-heartedly encourage all of our readers to 'explore' their own backyards, farmer's markets and cupboards to make their own versions celebrating their favourite flavours! After all, MAPLE isn't the only flavour of the leaf on our flag! Or at least not the only one.
Ontario ON Fire!

Because I'm crackers about the province I live in and the tasty talent found in it, I'm including a list of amazing Ontario ingredients and condiments that deserve a big shout out for the hardworking local folks who dreamed and delivered BIG taste in small packages from small businesses!
Condiments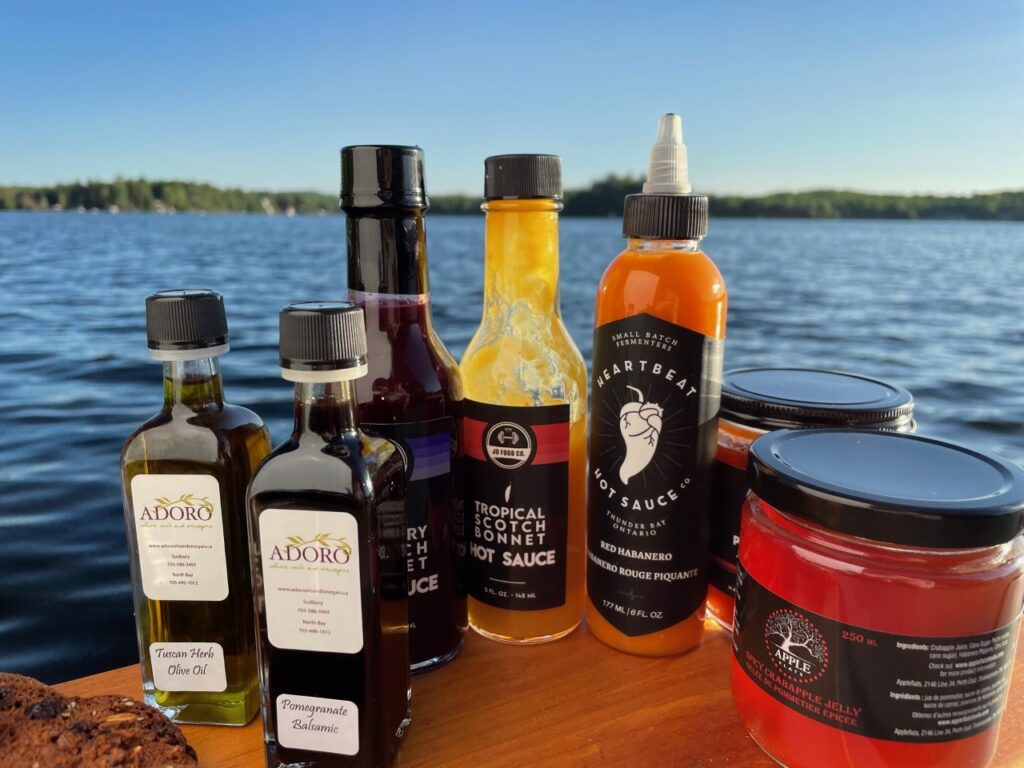 Novus Fine Dining – Red Pepper Jelly (Pickering, ON)
Novus Fine Dining – Blueberry Scotch Bonnet and Tropical Scotch Bonnet Hot Sauce
Adoro – Pomegranate Balsamic and Tuscan Herb Olive Oil (Sudbury, Ontario)
Apple Flats – Spicy Crabapple Jelly (Foodland)
HeartBeat Hot Sauce – Red Habanero (Thunder Bay, Ontario) (York River Meats, Bancroft)
Robb's Landing Heritage Foods – Strawberry Margarita Jam (Douro-Dummer, ON)
Valas – Pure Ontario No. 1 Honey (Lindsay, ON) (my grandfather knew the late founder, Joe Valas)
Meats & Cheeses were Cross Canada sourced!
Tomme de Grosse-Ile (Isle de Grues, Quebec) (Foodland)
Cows Creamery 3 year old Cheddar (P.E.I.) (Awarded World's Best Cheese in 2014!) (Foodland)
Great Lakes Goat Dairy Maple Cheddar Goat Cheese (Foodland)
Emma Brie (Vancouver, B.C.) (Farmboy)
Farmstead Emmental (Ontario) (Farmboy)
McLean Organics Uncured Rosemary Smoked Ham (Foodland)