M
y, how things have changed in our Canadian RV community since our last post on
Bees and RV's
. No one has escaped the impact of COVID-19. Our hearts go out to those who have lost family or friends to the virus. Some of us have lost our regular sources of income. Parents are juggling the challenges of closed schools and daycare centres while working from home.
The Canadian Honey Council chartered a plane to fly 80 skilled workers from Nicaragua to Canada to help manage the spring hive-building season and ensure the cross-pollination of fruits, vegetables, pulses, and canola.
At the back of our minds are questions about the RV season, especially since many campgrounds and parks are still under emergency shut-down orders and the difficult decision has been made to delay the Explorer RV Club Rally to next year.
A glimmer of good news is that by staying the blazes home, the number of new outbreaks in Canada appears to be balancing out and we haven't seen the same huge spikes that have sadly been experienced in other countries.
Our grocery shopping habits have dramatically changed. Many of us are trying to comply with the recommended limit of one shopping trip per week. Flour and yeast were in short supply for a few weeks as everyone turned to baking bread and suppliers scrambled to meet the demand. We're also paying closer attention to the staples in our kitchen cupboards. The demand for legumes and pulses has skyrocketed since the outset of COVID-19 and people are exploring new ways to incorporate them into their diets.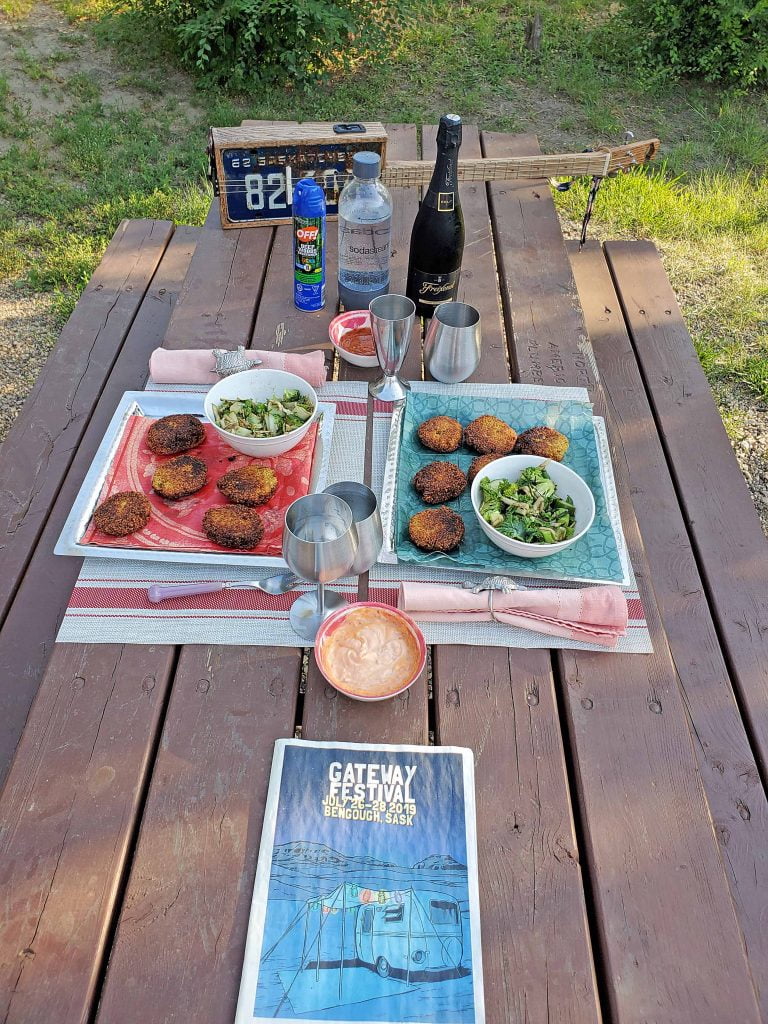 Falafels
One of our favourite go-to staples is falafels made from chickpeas (a pulse). There are two types of falafels: Yemini-type falafels from the Middle East (made from chickpeas) and Egyptian-type falafels (made from fava beans). Falafels can be served as part of a main course; as sandwiches (in pitas or burritos); or as finger food by themselves. Falafels are perfect for serving at RV get-togethers and as snacks at music festivals. They were certainly well-received at a Orbit Insurance staff lunch a few years ago!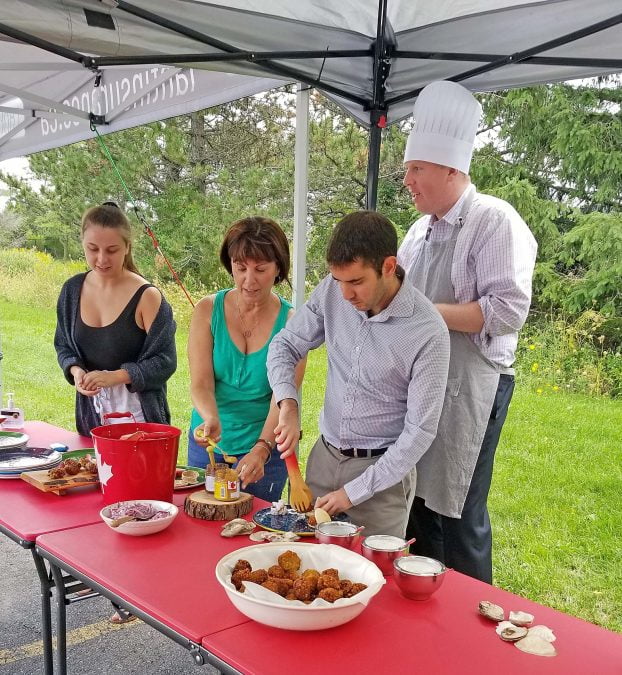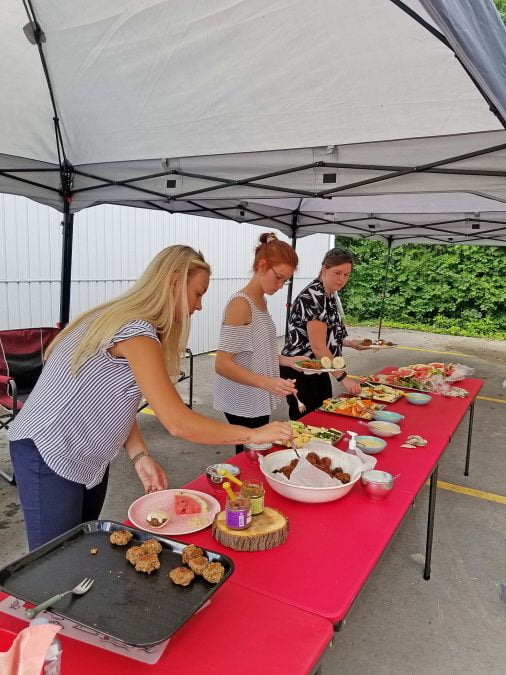 The semi-arid sandy soil of the Canadian prairies has enabled farmers to become major producers of the world's supply of chickpeas. Saskatchewan is Canada's largest producer of pulses (chickpeas, dry peas, and lentils), exporting to 129 countries.
Chickpeas are a good source of cholesterol-lowering fibre which helps prevent blood sugar levels from rising too rapidly after a meal, making them an attractive choice for individuals with diabetes, insulin resistance or hypoglycemia. They're also gluten-free. The chickpea plant is bushy, grows to a height of two feet, and produces small white or pinkish flowers and multiple pods, each containing one or two round seeds. Chickpeas are also known as garbanzo (Spain), ceci (Italy), hummus (Arabia), and chana (South Asia).
Now that we've all mastered the art of making bread, let's learn how to make falafels from chickpeas. Here's our favourite recipe, adapted from Chef Tori Avey: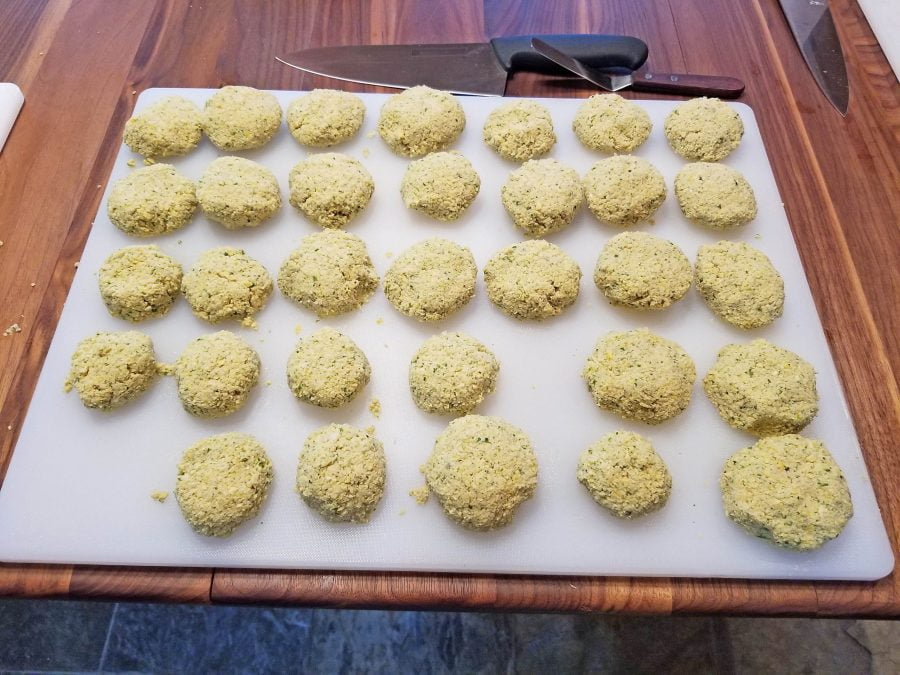 Falafel
Yield: About 30 falafel balls
| | | |
| --- | --- | --- |
| Chickpeas, dry – 500 gm | Flour – 25 ml | Pepper, black, ground – 3 ml |
| Onion, small – 1 ea. | Salt, free-running – 8 ml | Cardamom, ground – 2 generous pinches |
| Parsley, fresh – 60 ml chopped | Cumin, ground – 10 ml | Grapeseed oil – for frying |
| Garlic – 5 cloves | Coriander, ground – 5 ml | |
Method
Measure out the dry chickpeas and clean in colander
Add the chickpeas in a large bowl filled to the top with water and soak for 12 hours
Pre-heat oven to 325 degrees Fahrenheit and settle
Roast garlic cloves in loosely-wrapped tinfoil with 10 ml grapeseed oil for about 15 minutes. Reserve and unwrap when cooled
Skin and rough chop the onion. Reserve
Clean and chop the parsley. Reserve
Measure all other ingredients together. Reserve
Rinse the chickpeas well in a colander
Place the chickpeas into the food processor. Add all the other measured and prepared ingredients
Pulse the contents of the food processor until a rough meal forms. If food processor is small, this may be done in 2 or 3 batches
A little water may be added to each batch to help the meal develop
Use a spatula to push down the meal as it forms
When the meal is done, pour out into a large bowl and stir for 4 – 5 minutes with a fork, removing any too-large chickpeas which remain
Cover bowl with plastic wrap and chill for at least 2 hours. This mixture can also be stored in an airtight container for up to 3 days before being cooked
Fill a skillet with grapeseed oil to a depth of about 4 cm
Heat the skillet to medium (between 360- and 375-degrees Fahrenheit)
While oil is heating, remove meal from the chiller and form balls by rolling in the hand, each ball being about 30 ml in quantity
Do one test ball to try oil temperature
Cook about 6–8 balls at a time, turning once. (Your galley chefs prefer to slightly flatten the balls to make little rugby ball shapes.)
Cook at about 3 minutes per side
Remove from oil using a wooden spoon or wood tongs and drain on a plate
Serve with raita, tzatziki, hummus or a slightly spicy salad or wrapped in a burrito or mini pita bread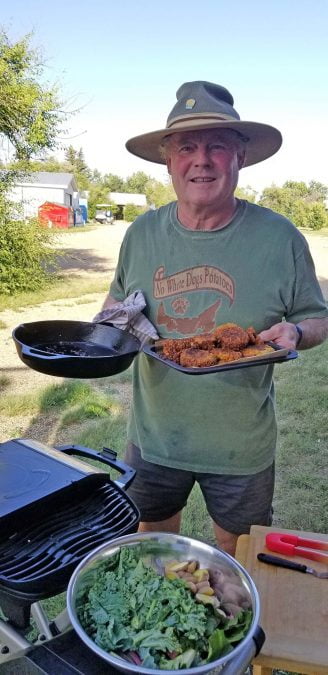 Chef Tori Avey suggests that we:
DO NOT use canned chickpeas or pre-cook the chickpeas to make our falafels. The moisture levels of canned or pre-cooked chickpeas are too high to achieve the right consistency.
Can make a lighter falafel ball by dissolving 10 ml baking soda in 15 ml water, and stirring into the mix just before cooking.
Serve with a layer of hummus deep inside a pita pocket. Then add the falafel, lettuce, tomatoes, and pickles and top with a thin layer of tahini sauce.
Until we next meet on the road, stay safe, practise physical distancing, help the bees, and enjoy your falafels!
Galley Kitchen Hack
Grapeseed oil can be reused. After it's been fully cooled, strain the oil through a fine strainer and store in a glass container with a lid.
References
Habeeb Salloum, Arab Cooking on a Prairie Homestead: Recipes and Recollections from a Syrian Pioneer, University of Regina Press, 2017
Pulse Canada pulsecanada.com