The Texas Auto Show, an attraction of State Fair of Texas, brings together a world-class auto show for 24 days each year. Excited to see what new models and features would be introduced for 2023, I attended the auto show and paid special attention to the Truck Zone – 175,000 square feet of outdoor space featuring the latest and greatest models from Chevrolet, Ford, GMC, Kia, Nissan, Ram, and Toyota.
A new add-on from Ram
At the Ram booth, they displayed the new add-on to their existing heavy-duty (HD) truck called the Rebel package. This off-road treatment isn't exactly a generational update; however, adding the Rebel off-road package onto their HD truck has one overarching advantage: the 6.7L Cummins diesel engine is available in the configuration. It isn't in the Power Wagon – though it's also built on the 2500 chassis.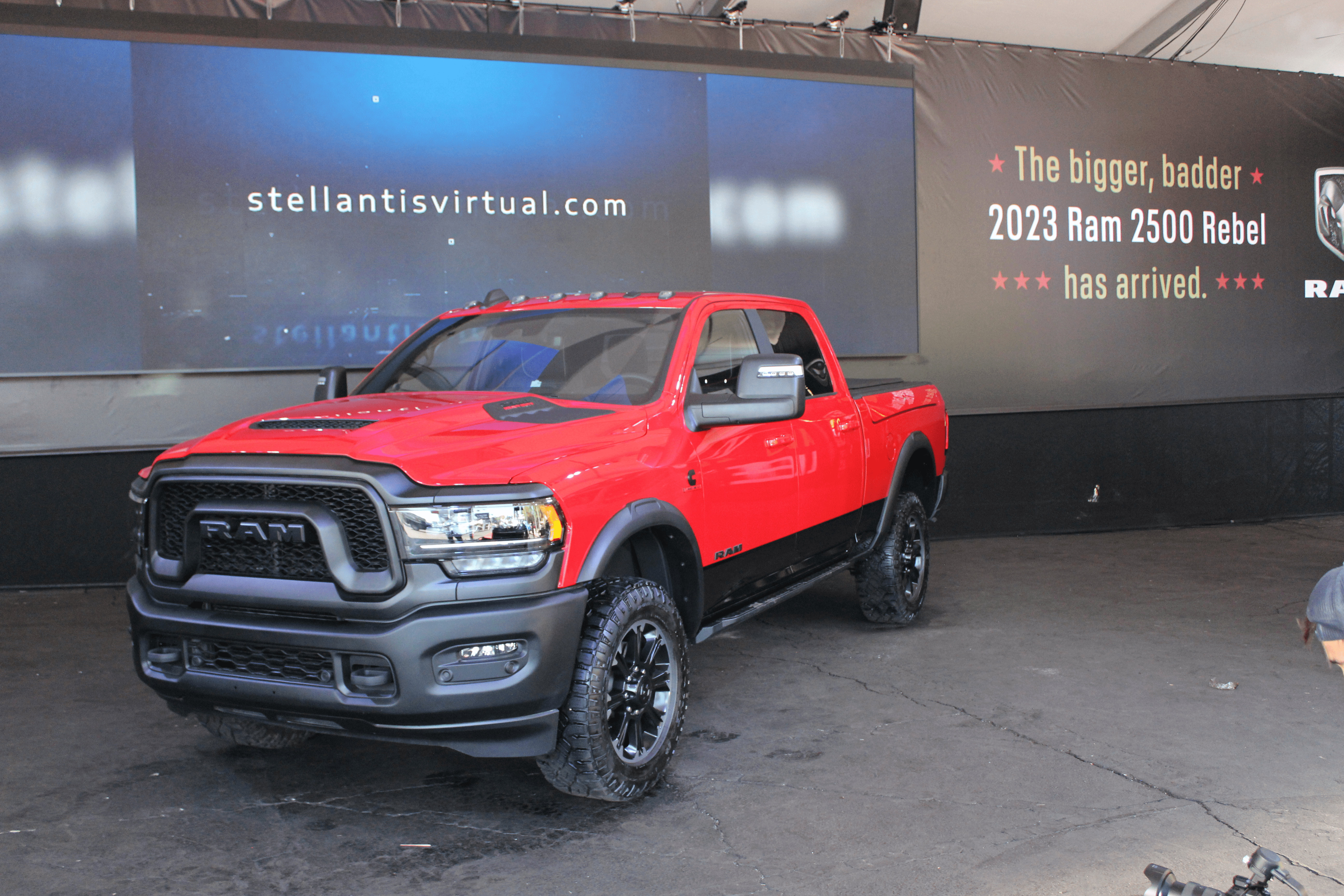 The new 2023 Ram 2500 HD Rebel is positioned between the Laramie and the Power Wagon.
Here's what you can find in Ram's new HD Rebel package:
Unique exterior design, aggressive off-road tires, an electronic rear locker and rear limited-slip differential, skid plates and an optional 12,000 lb. WARN winch.
Available rear air suspension system.
Standard 6.4L HEMI V8 engine and the optional 6.7L Cummins Turbo Diesel engine.
2023 Ram 2500 Heavy Duty Rebel power numbers:

Horsepower: 410 hp (gas) / 370 hp (diesel)
Torque: 429 lb. ft. (gas) / 850 lb. ft. (diesel)
Towing: 16,870 pounds
Payload: 3,140 pounds

Inside, three different seating options are offered including a full Natura Plus leather bucket seat.
Available safety features include adaptive cruise control, full-speed forward-collision warning plus, Lane Keep Assist, Blind-spot Monitoring and Rear Cross Path detection, automatic headlamps, digital rear-view mirror with tow mode and rain-sensing windshield wipers.
The 2023 Ram Heavy Duty Rebel goes on sale in the fourth quarter of 2022.
General Motor's HD hurry
Visiting GMC, I took a close look at the new 2024 Sierra HD. Though we'll probably see this truck by late Spring 2023, skipping the 2023 model year altogether shows the urgency and rush to get this truck to market. A result of the level of competition in this truck segment, which is fierce.
For General Motors (GMC and Chevy), part of the hurry is their goal of getting the new half-ton interiors into the HD pickup trucks as soon as possible. This has been an issue over the past couple of years, but it's fixed now.
Chevy shares its underpinnings with GMC, but that's where the similarities end. These two sisters continue to separate their look and images. You can see it in the sheet metal and trim packages.
What to expect from Chevy's 2024 Silverado HD
The 2024 Silverado HD has a freshened front end that features a new fascia, new headlights, a new grille and more. The truck has a chiseled appearance, and C-shaped LED graphic lamps frame the new fascia. High Country models feature dual-projector technology. The main and high beams are now split into dual functions, which show off as an animated lighting sequence that welcomes or bids farewell to owners as they approach or leave the truck. As for the interior, the 2024 Silverado will feature:
New interiors for LT trim packages and up which feature an all-new 13.4-inch-diagonal infotainment screen and 12.3-inch-diagonal configurable driver information centre.
Trailering technology including four new or enhanced features designed to inspire confidence and make towing easier.
A lineup including ZR2 and a High Country Midnight Edition (late availability).
Looking at Chevy and GMC, it's evident that General Motors is making a market move with these brands. Looking closely at these two HD trucks, it appears that GMC will be the "luxury" brand going forward, while Chevy is being positioned just one rung lower and with more "work" options. From a marketing point of view, this separation will serve a larger buyer group.
Here's what you can find in a new Chevrolet HD:
Enhanced power with the combination of the available 6.6L Duramax Turbo-Diesel V8 coupled with a 10-speed Allison transmission delivering 470 horsepower and 975 lb. ft. of torque. A new key feature is 25% more low-end torque vs. the current model for a greater feeling of power on demand.
Additional changes and upgrades offer a more efficient combustion and enhance performance. This latest Duramax engines adds additional refinements including:

An all-new, more efficient turbocharger with improved efficiency to boost low-end torque
Increased power and torque over the entire operating speed range
Improved engine braking with a more powerful turbo vane actuator and uprated valve springs
New cylinder heads with improved cooling jackets
An all-new combustion system within the heads that's matched with next-generation, higher-flow injectors, and greater fuel injection pressure
All-new engine controller

The Allison 10-speed automatic transmission is also paired with the Sierra HD's standard 6.6L gas engine for 2024. It replaces the previous six-speed automatic, offering smaller "steps" between the gears, which enables the 6.6L gas engine to be held closer to its peak power (401 hp and 464 lb. ft. of torque) for longer periods.
Max towing across the lineup:

Up to 22,500 lb. on 2500HD – a 4,000-lb. increase over current model
Up to 36,000 lb. on 3500HD
A final observation
Among all the new heavy duty pickup trucks, it seems like Ford and Ram are the only builders that continue to battle for "best-in-class" titles. Trying to out-do each other in power and towing numbers is a game that's been going on for decades, one that all the builders used to play. General Motors no longer plays the game. Instead, their approach is to offer more than enough power and weight capability on their new HD pickups.