It's RV show season! Whether you're in the market to buy your first RV or you're looking to replace your current one, RV shows are great opportunities to help you identify what type of RV is best for you.
Like at home, the kitchen is one of the most critical areas in any RV. If there's one guiding principle we've embraced in the RV world, it's "Cook, know thyself." Just as each RV owner is different, each RV kitchen is uniquely configured, and each RV experience offers various opportunities and challenges. As RV cooking writer Janet Groene observes, some RVers want to cook over a campfire; some want to return to fragrant, slow-cooked soups or stews at the end of a day of adventuring; yet others want to maintain the highest standards of professional cooking while on the road. Regardless of our differences, we all have a shared interest in eating; how we set up our RV kitchens and what we cook must truly reflect what we want from RV living.
No matter how luxurious (or humble) our RV kitchen is, it's essential to keep in mind that it's a working space with limited storage, surfaces, and water access. This means we must pay attention to the equipment and layout to meet our cooking preferences best. Checking out the kitchens at the RV shows is a great way to help your decision-making!
Forks Up for Canadian Agriculture! In support of Canadian farmers and all those who help produce the food that Canadians and people around the world eat, here's an RV-friendly dinner for four that you can make in 25 minutes. This recipe uses ingredients from Canadian farmers and even celebrates Canada's diverse cuisines.
Easy Chickpea Masala
"Masala" means "spiced gravy." Chickpeas are a good source of gluten-free, cholesterol-lowering fibre which helps prevent blood sugar levels from rising too rapidly after a meal, making them an attractive choice for individuals with diabetes, insulin resistance or hypoglycemia. Saskatchewan is Canada's largest producer of pulses (chickpeas, dry peas, and lentils), exporting to 129 countries.
Canada also grows peanuts. When problems hit the tobacco industry in the late 1970s, some farmers in southwestern Ontario introduced peanuts, which are well suited to light sandy soil and hot, dry weather. Known as groundnuts, peanuts are also pulses. They're a nitrogen-fixing rotation crop, replenishing the earth with the essential nitrogen depleted by other crops. Look for Canadian-grown peanuts at Kernal Peanuts and Picard's.
Ingredients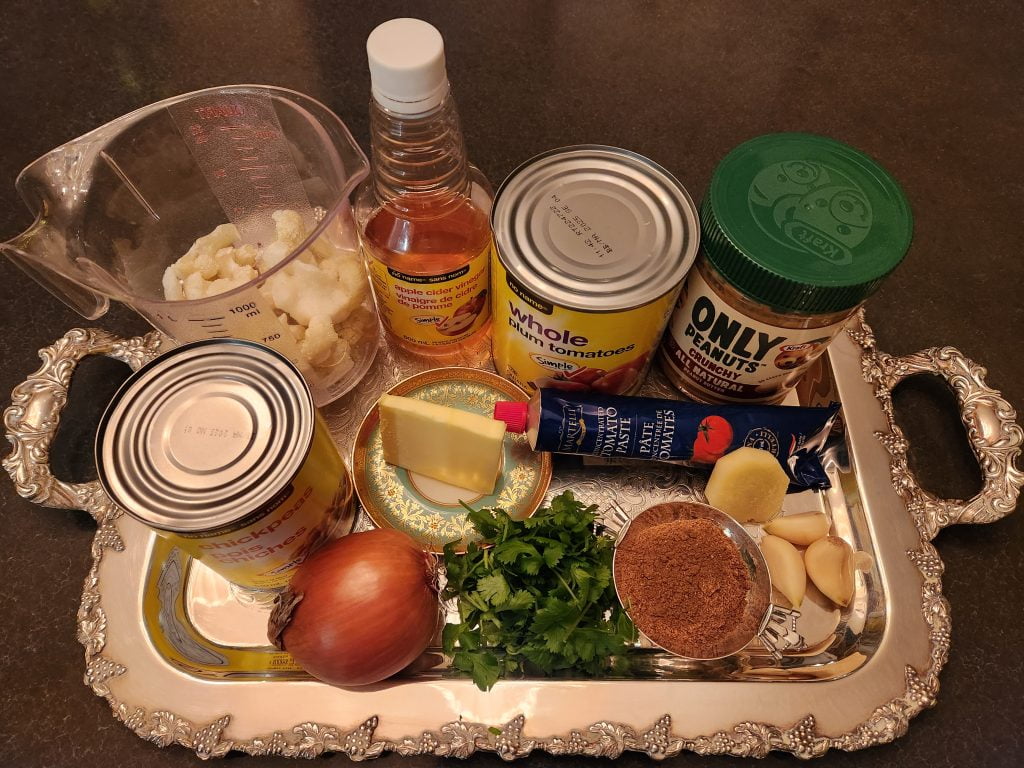 30 ml butter
four cloves garlic, minced
one onion, chopped
15 ml minced fresh ginger root
45 ml tomato paste
20 ml garam masala
10 ml ground cumin
one can (796 ml) of whole tomatoes, undrained
150 ml water
two cans (540 ml) of chickpeas, rinsed and drained
one pkg. (500 g) frozen cauliflower florets
30 ml crunchy peanut butter
20 ml apple cider vinegar
60 ml chopped fresh cilantro (optional)
Directions
In a large deep skillet, melt butter over medium heat.
Add garlic, onion, and ginger when butter is just starting to bubble. Cook, stirring for about five minutes or until beginning to brown.
Add tomato paste, masala, and cumin and stir for about one minute until slightly darkened.
Stir in tomatoes and water, breaking up tomatoes with a spoon.
Add chickpeas and bring to a simmer.
Reduce heat to medium-low, cover and simmer until thickened, about eight minutes.
Stir in cauliflower, peanut butter, and apple cider vinegar. Increase heat to medium-high and bring to a boil.
Reduce heat to maintain a gentle simmer and cook, occasionally stirring, for about five minutes until cauliflower is tender.
Sprinkle with cilantro.