The Perfect Way to 'Season' for these Two Chefs? A No Pressure Summer of Slow Camping Using High Pressure Cooking Methods to Spice Up their Staycation!
It looks like this dynamic culinary duo may be changing their tastes and bucking the usual trend this summer. According to recent survey results, an unprecedented number of Canadians are planning to hit the road in RV's this summer, including 3 million first-time RVers and campers. Pre-pandemic, we'd have been amongst these eager travellers, even boondocking in the school parking lot so we could head out the minute teachers wrapped up their duties on the last day of school. We'd then typically average 13,000 – 15,000 kilometres of travel per summer.
This year, we're trying something for the first time: Stay a full season at a seasonal site only 32 km away from our high-rise home in midtown Toronto. In previous years, we've stayed at this site but only for the shoulder seasons (May to June and September to October). This year we pulled in on May 1 and plan to stay until the end of October.
We've already noticed some subtle changes from our RV staycation experience. We've certainly slowed down, for one. Instead of getting up early to break camp, bring in the slides, raise the jacks, complete the circle check, and be on the road before the 11 AM deadline, we now find ourselves taking longer walks and trying out a new exercise routine, plalking (not a typo!) We're exploring the neighbourhood grocery stores and markets, taking day trips around the Greater Toronto and Hamilton Region, and participating in the Nature Conservancy of Canada's 2021 Small Acts of Conservation challenge.
We've also become more aware of the cycles of nature. In addition to watching the newly fledged birds discover the bird bath we installed, we've learned that those birds we thought were sparrows are in fact female red-wing blackbirds (without any red on their wings!) During our walks, we've spotted deer, coyotes, rabbits, small brown snakes, and even an endangered common snapping turtle en route (we like to believe) to laying her eggs #watchforturtles. We've learned about the proliferation of attractive but invasive non-native species such as phragmites (European Common Reed), birdsfoot trefoil and field bindweed. We've also planted a small container vegetable garden and some native cultivar pollinators. The only disappointment we've experienced is the risk to bird life by an owner who allows its domesticated cat to roam freely, a common phenomenon with surprising consequences for the eco-system including the deaths of more than a million birds and vital smaller species per year.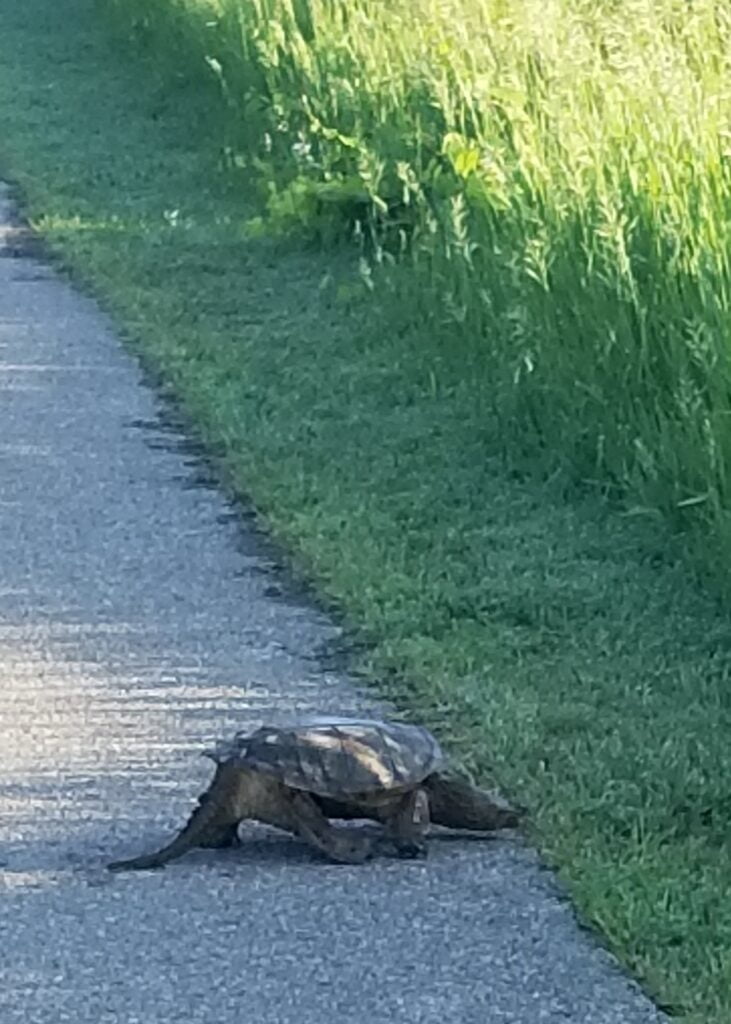 We've had the opportunity to cross paths (literally!) with people we would not otherwise have met: People who assign jockeys and train horses at the local racetrack; a landscape gardener; an author and spirituality coach; a pipeline installation supervisor; the owner of several large retail operations; and an individual who captains crews for privately-owned luxury yachts in the Caribbean of all things. We seem to be the exception here – every one of these seasonal site neighbours heads off somewhere else between November and April, including to Brazil, Florida, Texas, and Kelowna. So far, we seem to be the only ones who live and work in Toronto. We certainly seem to be the poster-children for the #stayandwander movement that's popped up on social media this year in light of pandemic lockdowns.
We've very much enjoyed our RV staycation and certainly recommend it for anyone who'd like a change of pace. At the same time, we've certainly not lost our appetite for getting out on the road and have already started planning for next year when that 'rested' feeling turns restless!
Vegetable Halloumi Biryani
With the COVID restrictions easing and the rate of double-vaccinations rises, we're excited to start some physically-distanced outdoor entertaining. For our first event, we served this adaptation of a vegetable and cheese biryani dish which you may also wish to try in your "Instant Pot" multi-cooker (ours is a Breville Fast-Slow Pro). For spicing, we used whole green cardamom pods which you'll need to gently push to the side of your plate when eating. Either paneer or halloumi can be used in this recipe, however our preference is to use halloumi as it seems to hold its shape a bit better. Feel free to substitute any and all vegetables. For example, fresh amaranth leaves can be used instead of spinach.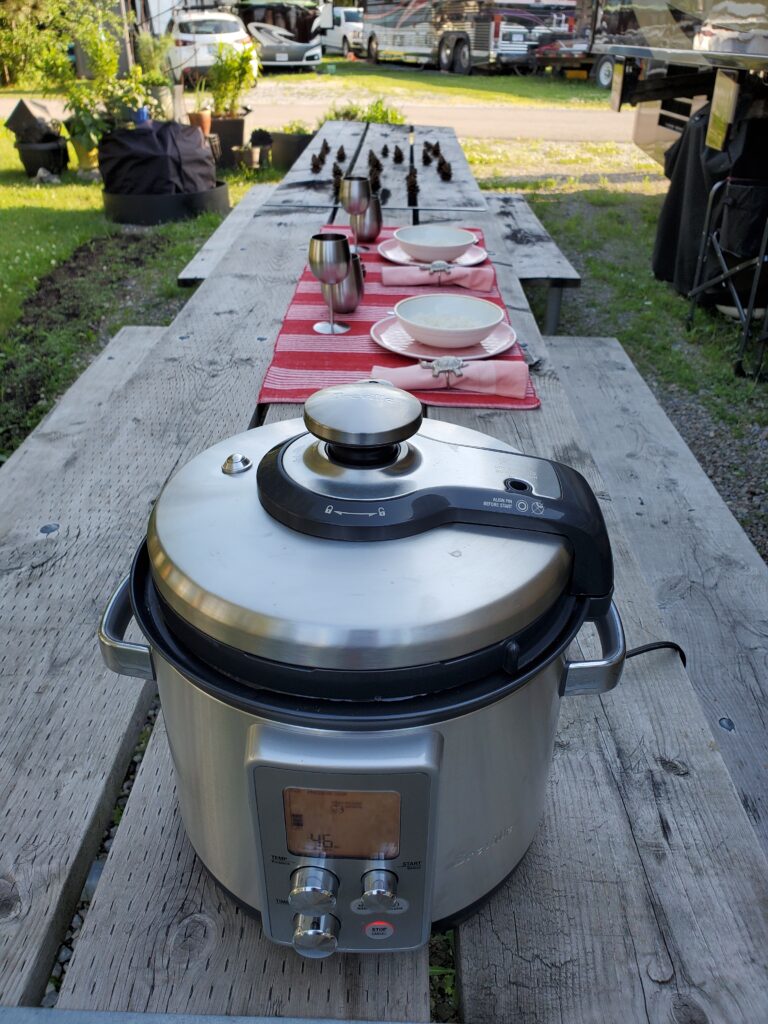 Although you can certainly add the uncooked rice before pressure cooking, due to the liquid content of the frozen vegetables, our preference is to use a three-step process: 1) Cook the rice in the multi-cooker first and set aside; 2) Use the multi-cooker to complete the recipe; and 3) Serve the vegetables on a bed of cooked rice.
Adapted from the cookbooks by Madhur Jaffrey (Vegetarian Indian), Chandra Ram (The Complete Indian Instant Pot Cookbook), and Breville Fast Slow Pro (Full time, half time, meal time.) Serves 6.
Ingredients
500 ml basmati rice, washed, drained
500 ml water (to cook the rice)
60 ml ghee or vegetable oil (or combination)
10 ml whole cumin seeds
10 ml whole mustard seeds
1 onion finely diced
15 ml fresh ginger, peeled & grated
15 ml minced garlic
5 ml turmeric
5 ml cayenne pepper
4-6 green cardamom pods
10 ml fresh ground pepper
15 ml salt
10 ml ground coriander
350 g halloumi (or paneer), cut into 2 x 2 cm cubes
130 g cauliflower florets
130 g frozen peas, rinsed
150 g spinach (fresh or frozen)
135 ml tomato sauce (passata)
250 ml coconut milk (see Galley Kitchen hack, below)
30 ml coconut mango or cilantro chutney
10 ml garam masala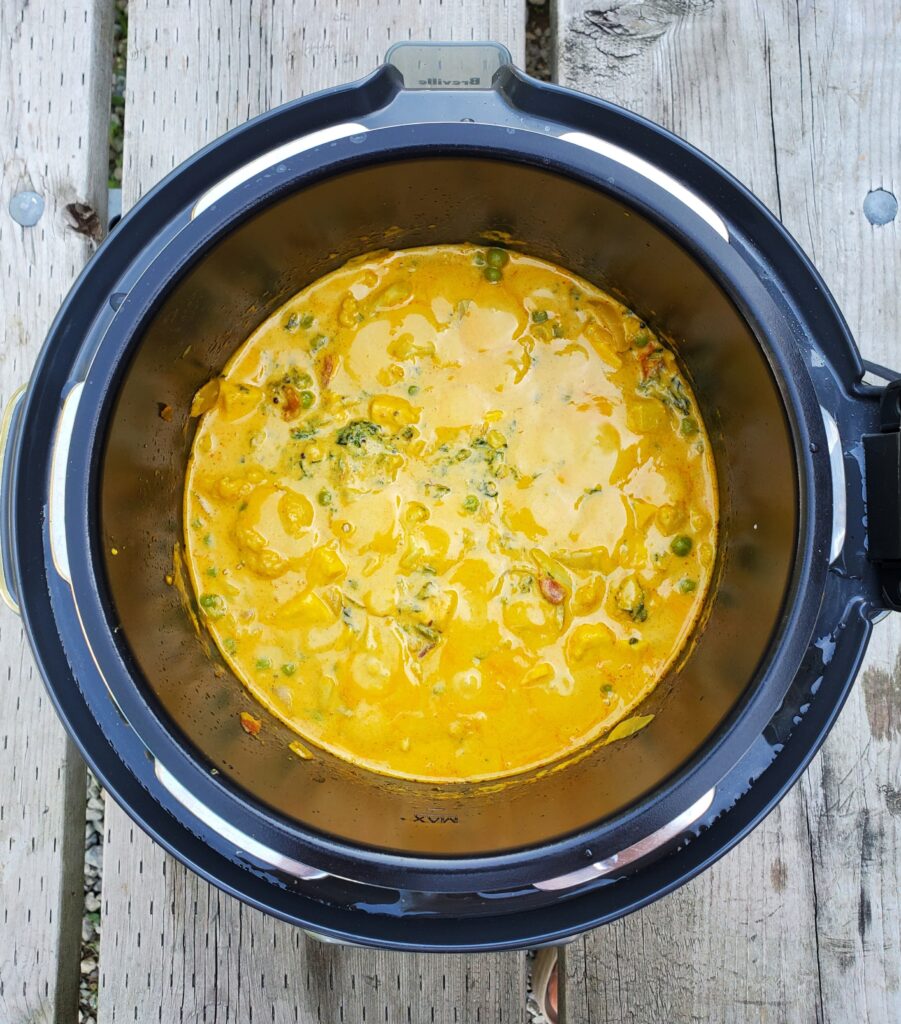 Cook the basmati rice and set aside
Combine the coriander, turmeric, cayenne pepper, cardamom pods, pepper, and salt in a bowl and set aside
Select and set the sauté function on HI. Add 30 ml of ghee/cooking oil. When hot, add cumin seeds and mustard seeds, stirring occasionally until they "pop".
Add onion and sauté for a few minutes until softened.
Add the remaining ghee/cooking oil to the cooking bowl. Add the halloumi cubes, ginger, and garlic and sauté for another 1 or 2 minutes, stirring carefully to brown the cubes on all sides and to prevent sticking.
Add the cauliflower and sauté for another 2 minutes
Add the remaining vegetables, the bowl of spices, tomato sauce, and coconut milk and mix well. Bring to a boil and then reduce to a light simmer using either MED or LO heat.
Select Pressure Cooker Vegetables (7.5 psi) for 3 minutes
When cooking has been completed, let the pressure release naturally for 3 minutes and then quick release.
Stir in the chutney and the garam masala.
Serve over a bed of the cooked basmati rice.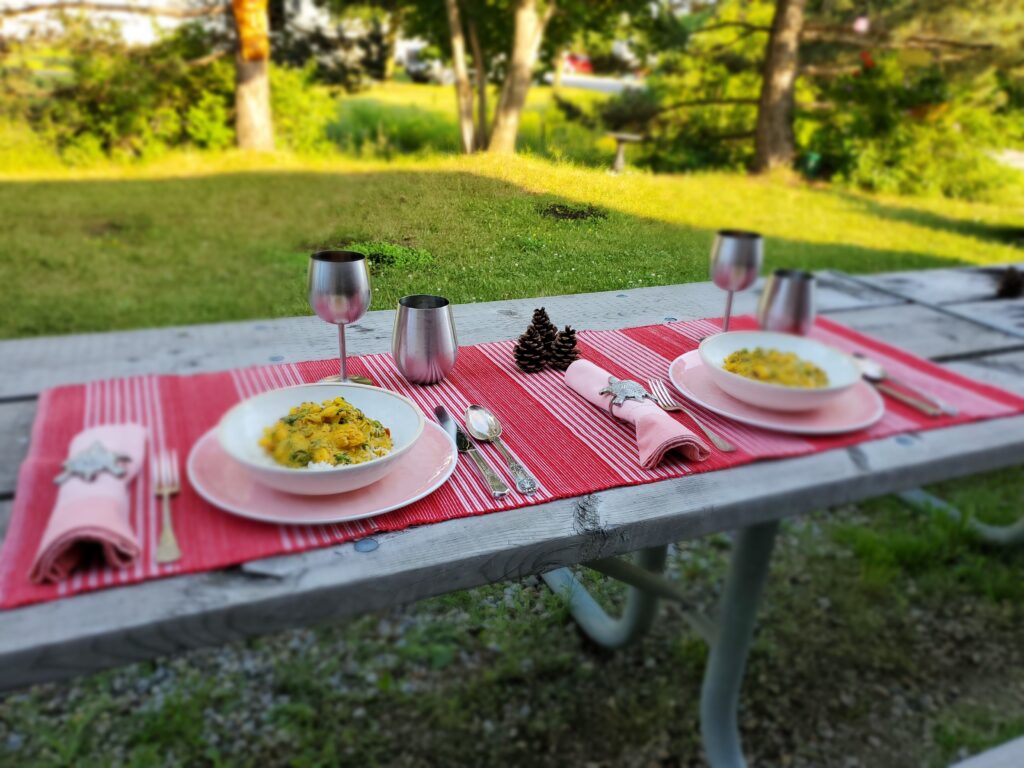 Here's a Galley Kitchen hack courtesy of Chef Joe Thottungal, owner of the Thali restaurant in Ottawa. Use coconut powder (available at most grocery stores) in recipes calling for coconut milk or coconut cream. Add the coconut powder to water and stir. Add more powder if you wish to have the consistency of coconut cream. He also recommends that garam masala be added at the end of the cooking cycle, not during.
Here's to an enjoyable summer of edible experiences, whether you're on the road or at a seasonal site, we hope you continue to stay positive, test negative, and above all, bee kind!