​Did you know that not every vehicle comes with a trailer brake controller? Even vehicles that can tow and are promoted as towing vehicles don't always come with one. Why? The answer is the aftermarket, but this is not news because aftermarket trailer brake controllers have been around for decades. Tens of thousands have been sold, and whole generations have grown up with a wired-in trailer brake controller hanging under their vehicle's dashboard. However, a wireless controller is something much newer and so much neater
We recently had a CURT Echo mobile trailer brake controller (that works with Bluetooth) sent to us. I'll explain how it works but let me first stress that it's wireless – this is what makes this unit so attractive.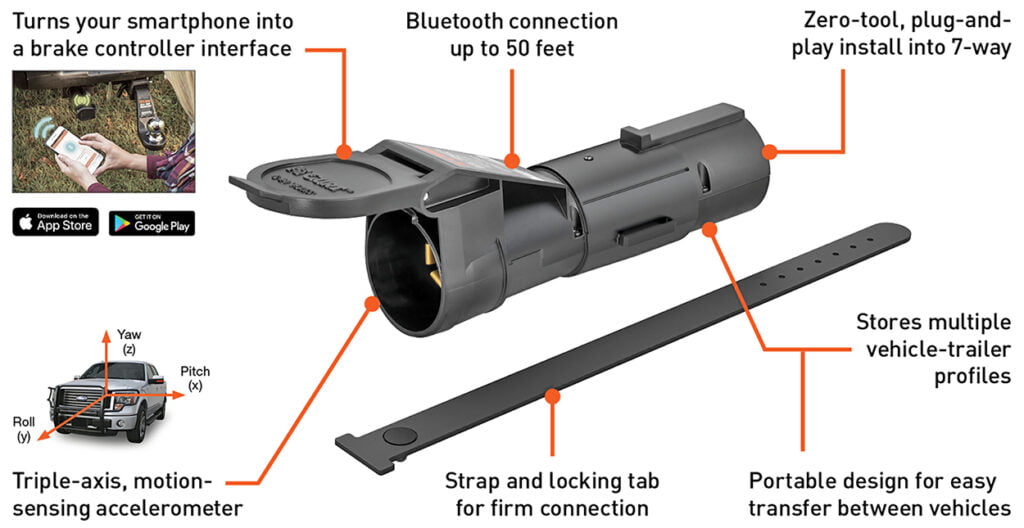 This trailer brake controller doesn't require a traditional wiring connection to the vehicle. The Echo mobile trailer brake controller connects in between the vehicle plug and the trailer's 7-way receiver. This is what eliminates the need for a separate splice-in wiring installation. The Bluetooth part of this technology uses radio signals to connect to your smartphone, allowing it to become the interface for trailer brake operation. The Echo unit will sync with your Apple or Android phone, turning it into a wireless trailer brake controller.
Once the downloadable app has located the Echo unit, it shows up on your phone with the same controls you'd find on a wired unit. It allows manual control of the brake settings, calibrates output, and monitors all brake activity with the touch of a finger.
Tip: You can leave the phone in the cupholder or on the dash, however, after using the Echo unit and app, we recommend using a suction mounted phone holder.
We used the Echo mobile trailer brake controller during a recent on-road test of the new 2022 Jeep Grand Cherokee and trailer, in which we described its setup and operation. If you'd like to see that YouTube video, please visit the Truck King channel.