The E-Pro line-up of trailers from Flagstaff are meant to fit a market that wants a lightweight trailer that will tow with today's smaller SUV's, while still offering all the amenities that a plugged-in buyer demands. That summation is what I gleaned from the E-Pro literature. To see if they've delivered on that outline, I recently did a walk-thru and towing test on the E19RD model in the E-Pro line-up. This model is 20-ft long and weighs in at 3,177 lb. dry.  It has no slide outs. It is a basic box design with the dinette at the rear, bed at the front and the kitchen and bath sharing the center section across a common aisle.   What makes this trailer stand out is not the floor plan; but what Flagstaff has put into the floor plan.
The E-Pro is not a budget trailer. In fact, when you look at the construction and the standard list of features, you'd probably peg it as a solid mid-range trailer price-wise. With that in mind what I saw was a lot of content in this trailer which translates to good value.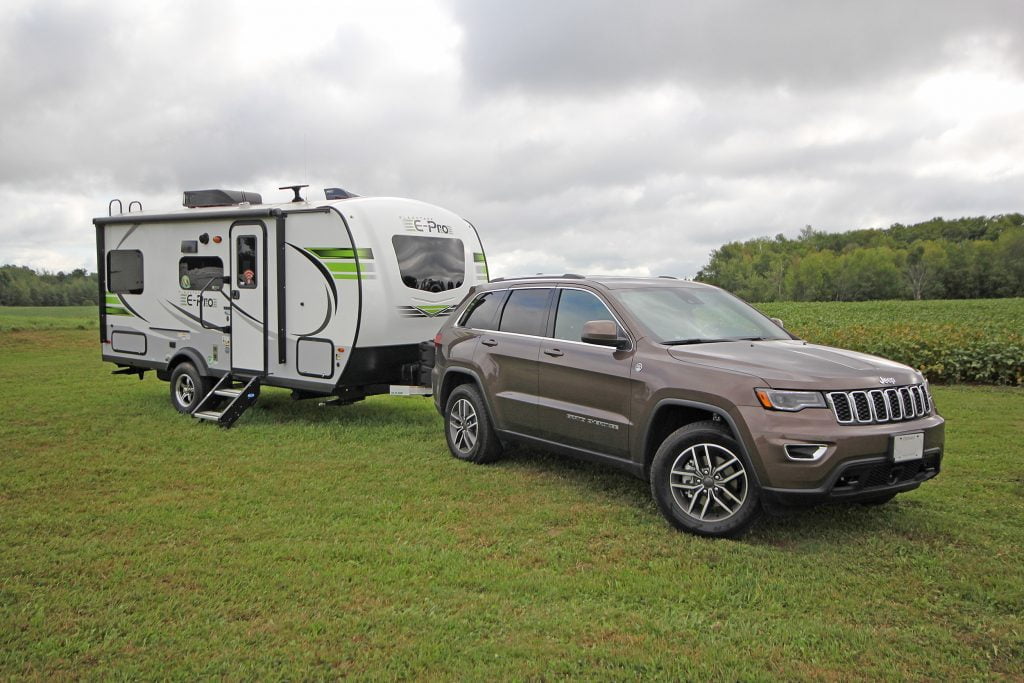 E-Pro's are built with aluminum cage construction, supporting vacuum laminated roof and walls. A domed rubber roof will shed the rain well, and the unit rolls on radial tires fitted to Dexter Torflex axles.  These axles offer independent wheel suspension, rubber cushions and forged torsion arms. There are scissor jacks at all for corners, a fold-out rest-on-the-ground entry step, a pass-thru storage at the front, a full powered awning, outdoor speakers, barbecue gas hookup, outdoor shower and all the power plugins as required. The windows are automotive style tinted glass and you'll also find little extra's like a docking light above the hitch coupler.
E-Pro's green energy vibe comes from its standard roof mounted solar panel that feeds a 1000-Watt converter. To give you an example of what this will power, it will run the refrigerator off just that one panel (though the fridge is gas/electric auto-switch over). However, E-Pro is also pre-wired with another outside wall port so you can set up other panels once you reach your campsite. A/C and the microwave will still require greater shore power, but you do have the potential to go off-grid with most of your needs in this unit.
Still, while you're out in the back country, unplugged, you can still remain connected with the variety of connections that this trailer offers. For starters, it comes with a standard WiFi Ranger Sky booster with available WiFi LTE connectivity. The AM/FM stereo comes with Bluetooth and a USB port, while the 12V TV has a built in DVD player. The trailer is also pre-wired to accept a backup camera view in your tow vehicle. In keeping with the boondocking model, E-Pro also offers a Shower Miser Water Saver system.  This will stretch your fresh water to last longer. However, if you do re-fill from an unknown source, the Water-Pur Filtration System will take care of that. Keeping the model of unlimited solar power in mind, many of the systems are set up as gas/electric – like the fridge, hot water heater and two-20lb propane tanks are standard.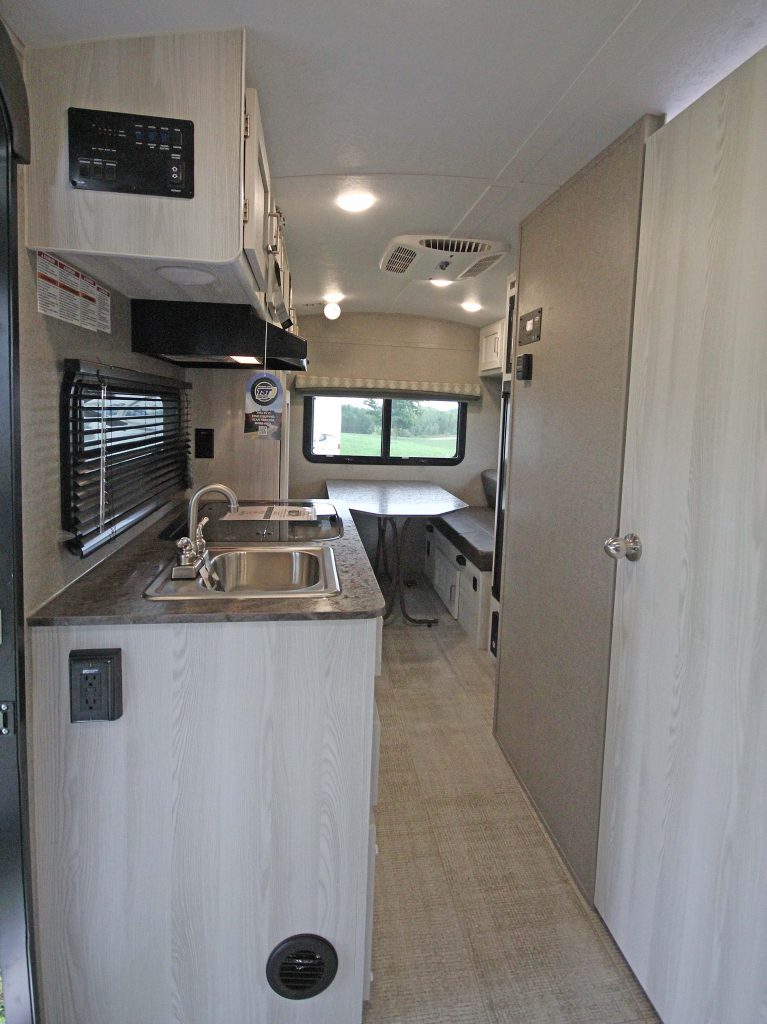 A couple of the more interesting features inside the unit are the large (relative to its overall size) bathroom that features a porcelain toilet, mirrored medicine cabinet, toiletry shelf, and a tall, bright shower with a small tub base for washing up the kids. The kitchen lacks a large counter, but it does have a nice glass cover for the stove top. Although, more likely the large free-standing dinette table will be used for food prep. This dinette folds down to the second sleeping space in the trailer, but the table itself stands on aluminum legs and is easily moved around. You could even move it outside if you like. Storage is found throughout the trailer, where ever a space presents itself, Flagstaff has put a cupboard, shelf or closet there. Some open shelves even have cargo nets.
As this type of trailer will appeal to younger people, E-Pro can be outfitted with the carriers needed to bring the outdoor toys along. A tongue-mounted bike rack is popular, as is a roof-top bike/kayak/canoe carrier. For this, a rear access ladder is provided.
Have a look at the E-Pro, other than the one I had a chance to test, the line-up to this lightweight segment offers a broad range of sizes and models.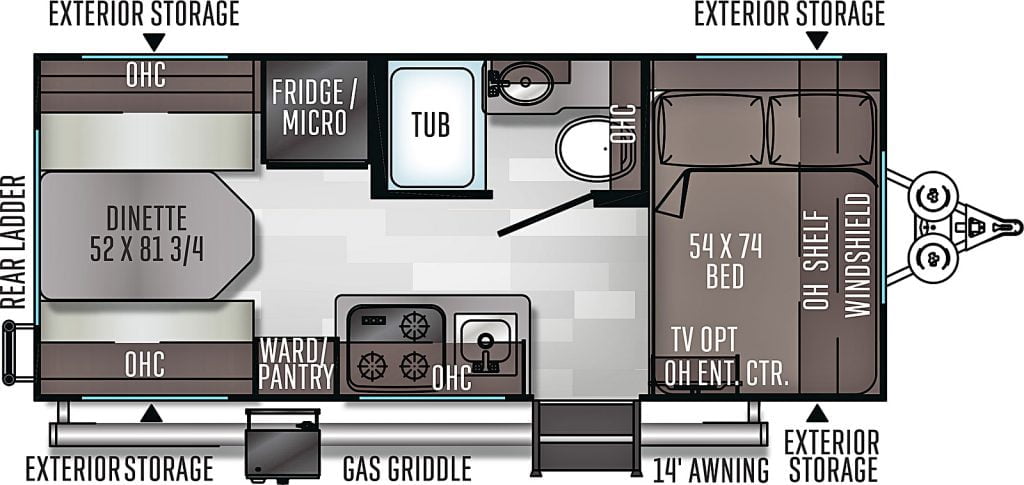 Flagstaff E-Pro E19RDm Specifications:
Dry Weight:                       3177 lb
GVWR:                               3916 lb
Hitch Weight:                   416 lb
Length:                              20'
Height:                               9'7"
Width:                                88"
Fresh Water:                     37 gal
Grey Water:                      30 gal
Black Water:                    30 gal
Awning Size                     14'
LP Gas                              2 x 20 lb
MSRP                               $36,350.00
Unit supplied courtesy of Gimmie Shelter, Mono, ON.