Although we're glad to see 2020 in our rear-view mirrors and optimistic that most Canadians will be vaccinated against COVID-19 this year, we know we've a long road ahead of us before we can safely enjoy all those pre-COVID pleasures we've put on hold. Close to the top of our wish list is to hang out with our dear RV friends who are outside of our bubble.
In the meantime, our RV is tucked away in a heated indoor RV storage facility in Midland, and we're enjoying our favourite comfort foods and planning for RV adventures ahead!
Chili: The Ultimate Comfort Food
We can't think of a better choice than chili as a year-round comfort food – equally delicious and satisfying in the middle of a long dark Canadian winter as it is when enjoyed around a summer campfire. Chili earns top marks as an easy-to-prepare, nutritious, and economical meal with unlimited options to creatively adapt, store, and reheat it.
Originating with working-class Tejana and Mexican women, this simple comfort food has an interesting history. As far back as the 1800s and for more than 100 years, women arrived at twilight at the plazas of San Antonio, Texas. Known as the "Chili Queens," they cooked and served inexpensive pots of chili ‒ flavoured beef stew along with coffee and tamales ‒ on makeshift tables in their "chili joints." Chili was introduced to a wider audience during the 1893 Columbian Exposition in Chicago. In 1977, the Texas legislature designated chili as the official dish of Texas.
The original chili dishes were beef stews made with chili peppers ("chili con carne") and did not contain beans. Only recently has the ICS (International Chili Society) officially recognized that chili can be made without meat and added a "chili sin carne," non-meat chili competition category.
How could we talk about chili without mentioning the Chile peppers themselves? The pungency measure for peppers, known as the Scoville Heat Unit (SHU) scale, ranges from 0 for non-pungent (sweet bell peppers) to more than 80,000 for "very highly pungent" peppers. The Carolina Reaper chile registers 2.2 million on the SHU. (For the record, an even hotter chile, known as Dragon's Breath, was developed by Nottingham University as a topical medication to numb the skin of those individuals allergic to anaesthetics. Because the capsaicin level is so lethal, this pepper is not for human consumption.) That warning aside, hot peppers and sauces (including the Carolina Reaper chile) have their own (pre-COVID) hot sauce and chili festivals, including Ottawa's Heating Up the Capital Festival, Toronto's Hot and Spicy Food Festival, and Calgary's Hot Sauce Festival.
Chili: Canadian Content
Canadian-grown chilies and Canadian-made hot sauces have gained international recognition. Shirley Ladouceur of Chez Nous Farms near Fort Erie grows a variety of hot peppers and sells them at the St. Catherine's Farmers Market. You can find Pepper North Artisan Foods' award-winning hot sauces at major Canadian grocery chains. Sourced from local ingredients and produced in Oshawa, Ontario, Pepper North's hot sauces have consistently placed first, second, and third in the Fiery Food Challenge in Texas and the Hot Pepper Awards in New York. We've also heard about the hot sauces from Maritime Madness based in Cardigan, Prince Edward Island.
Whether your preferences are con or sin carne, you can make your chili from locally-sourced Canadian products too: Canadian-grown beef; corn; hot peppers; tomatoes; Western-Canadian beans/pulses, such as kidney, red, and chickpeas; and, of course, Canadian hot sauces.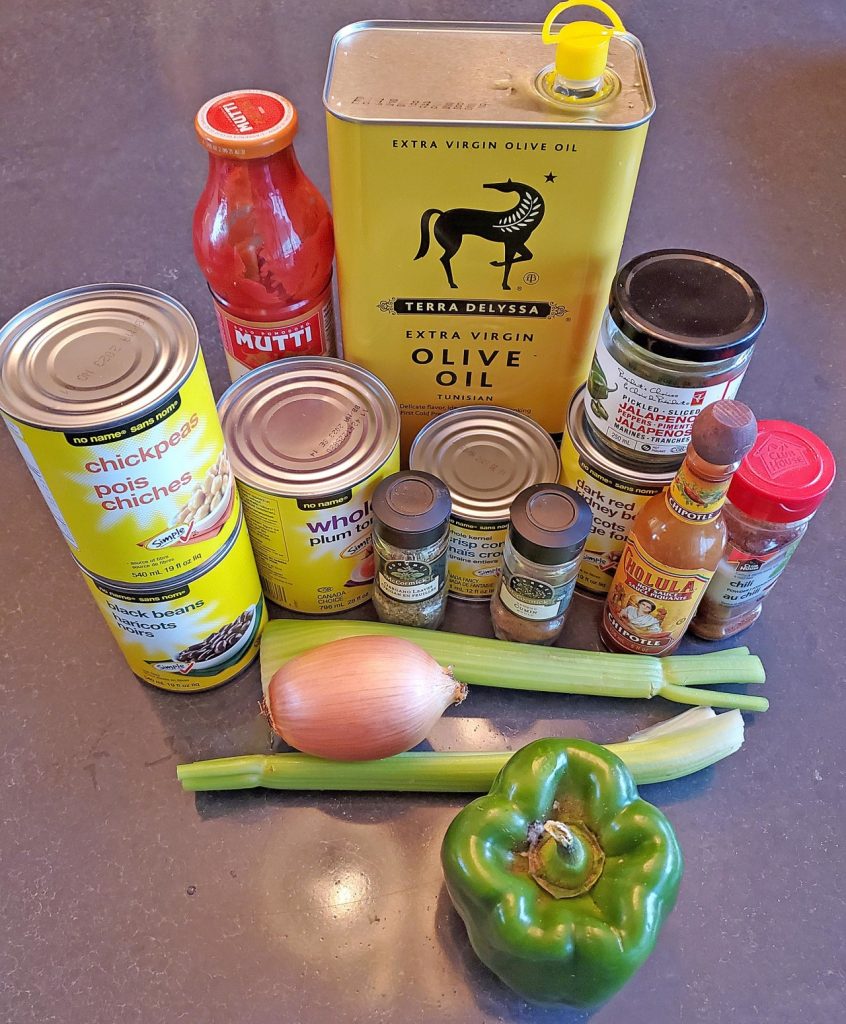 RV Chili Recipe
Serves 6–8
Adapted from Allrecipes.com
Here's the recipe we use as a starter for chili and then adapt using the ingredients we have on-hand. For convenience, we used canned corn and beans, but you can use fresh corn and cooked dried beans. Because we didn't have fresh jalapeño peppers on hand, we used half a small jar of pickled jalapeño peppers instead.
You can prepare and freeze your chili ahead of time, ready to be thawed and reheated in your RV microwave later. You can cook your chili in a Dutch oven on your RV stovetop, over the grill, or in the fire pit. Or, you can use your slow cooker or Instant Pot. You have endless opportunities for adapting this chili recipe, including: 
Increase your daily veggie count by adding finely chopped zucchini, cauliflower, broccoli, or any vegetables you have at-hand during the cooking process.
Add your leftover Christmas/Thanksgiving turkey to your chili.
Serve your chili mixture over rice, quinoa, pasta, or grilled portobello mushrooms.
Tuck your chili into tacos, hamburger buns, or hot dog buns. Fold your mixture into naan, pitas, or flatbreads.
Add to an omelette or to make a Western/Denver sandwich.
Top your chili with shredded cheese.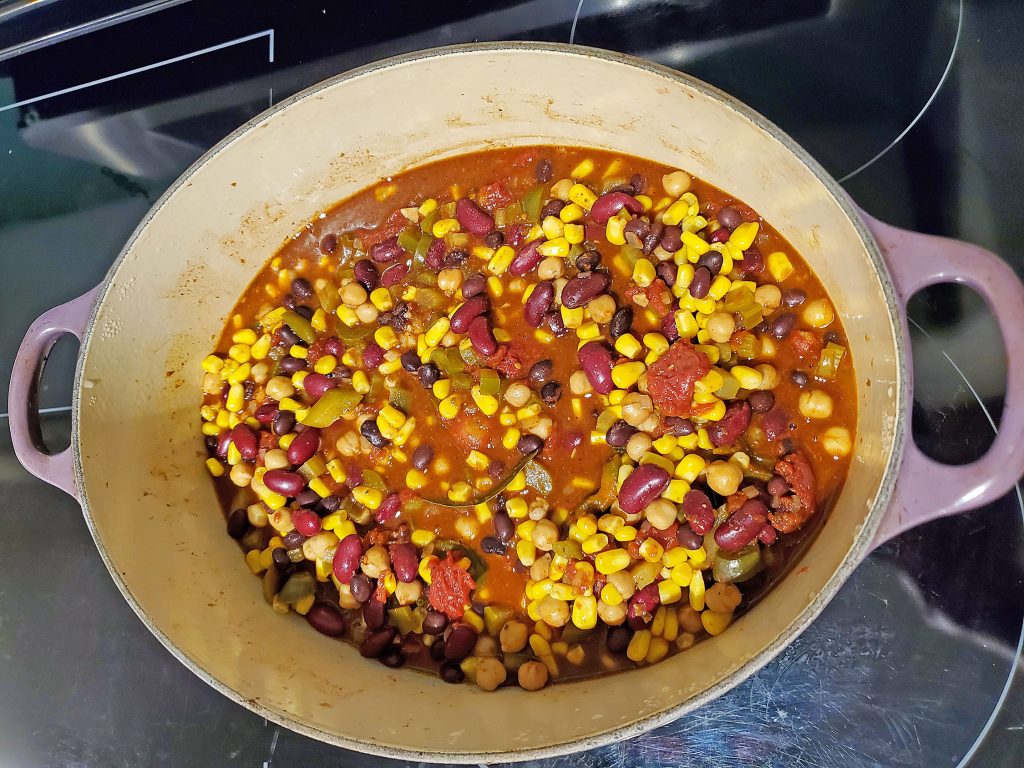 Ingredients
15 ml vegetable (or olive) oil
1 large yellow onion
2 dried bay leaves
5 ml ground cumin powder
30 ml dry leaf oregano
60 ml chili powder
15 ml ground black pepper
10 ml salt
2 stalks celery
2 sweet bell peppers (any colour)
2 jalapeño peppers
3 cloves garlic
1 tin (796 ml) tomatoes
1 tin (540 ml) red kidney beans
1 tin (540 ml) black beans
1 tin (540 ml) chickpeas
1 tin (355 ml) whole kernel corn (we prefer "crispy corn")
15 ml (or to taste) hot sauce (optional)
30 ml tomato sauce (optional)
Directions
Wash & chop celery into a small dice – reserve.
Clean, seed, and dice bell peppers – reserve.
Finely dice onion – reserve.
Clean jalapeño peppers; open, seed, AND remove pith. Dice very small – reserve.
Skin garlic cloves, remove anima, and fine dice – reserve.
Open all tinned beans and corn and reserve the liquid from the beans (see RV Galley Kitchen Hack for uses of this reserved bean liquid).
Heat oil in Dutch oven over medium heat and start to clarify the onion.
Stir in bay leaves, cumin, oregano, and salt.
After the onion is well clarified, add in celery, all peppers, and garlic, and stir thoroughly.
Reduce heat and sauté for about 5 minutes.
Mix tomatoes into a pot and break up with wooden spoon.
Add chili powder and pepper; stir in thoroughly. Allow to cook for 5 minutes.
Add all the beans, bring to a boil, and then reduce the heat to low.
Reduce slowly for 45 minutes, stirring occasionally.
About 5 minutes before serving, stir in corn, and combine thoroughly.
Chef's Note
For a meaty chili, add ground meat between Steps 9 and 10, taking time to first brown all the meat. Remove bay leaves before serving.
RV Galley Kitchen Hack
Have you heard about aquafaba, the "translucent viscous goop" you would normally drain from canned beans? We save the aquafaba from canned beans to use as a thickener for soups and stews. Aquafaba can be stored in the fridge for up to a week and in the freezer for up to four months. Freeze the aquafaba in an ice cube tray and decant the cubes into a freezer-safe storage container when frozen.
Although we've not tried this ourselves, aquafaba is known to be an excellent substitute for eggs and egg whites, and it can be used in pancakes, waffles, mayonnaise, meringues, mousse, and brownies. Some restaurants use aquafaba to build the foam in whisky sours (and thereby reduce the risk of foodborne illness that comes from raw egg whites). We've even heard that it's used as a latte froth.
Stay positive, test negative, and bee kind!