Like many of our fellow RVers, our plans for extensive travel this summer have taken a course-correction. Although we'll be on the road this year (including to the Explorer RV Club rally), inflation and higher fuel costs have led us to scale back on both the number of trips we're taking and how long we'll be on the road.
This means we're enjoying more of our time at our seasonal site and taking advantage of the opportunity to take in the local scene. As for meals, we've been eating lots of salads during this hot weather. Looking for some inspiration? Check out these guides from the Globe and Mail and the New York Times.
Greek (Horiatiki) Salad Recipe
There are at least two stories about the origin of the Greek (Horiatiki) salad. Some say that it first appeared on the menus of Greek tourist destinations 50 years ago to get around the prices set by the government by adding a slab of feta cheese to simple salads made of tomato, cucumber, onion, and sweet peppers. Others say that because "horiatiki" translates to "village" in Greek, it's a traditional dish containing ingredients Greek farmers may have had on hand.
Regardless of its origin, Horiatiki salad is a delicious and it's a simple recipe to make on-the-road, using locally grown and sourced ingredients. We've also enjoyed Horiatiki salad wraps.
Tip: drain the liquid first before filling the wraps!
Yield: sufficient for 12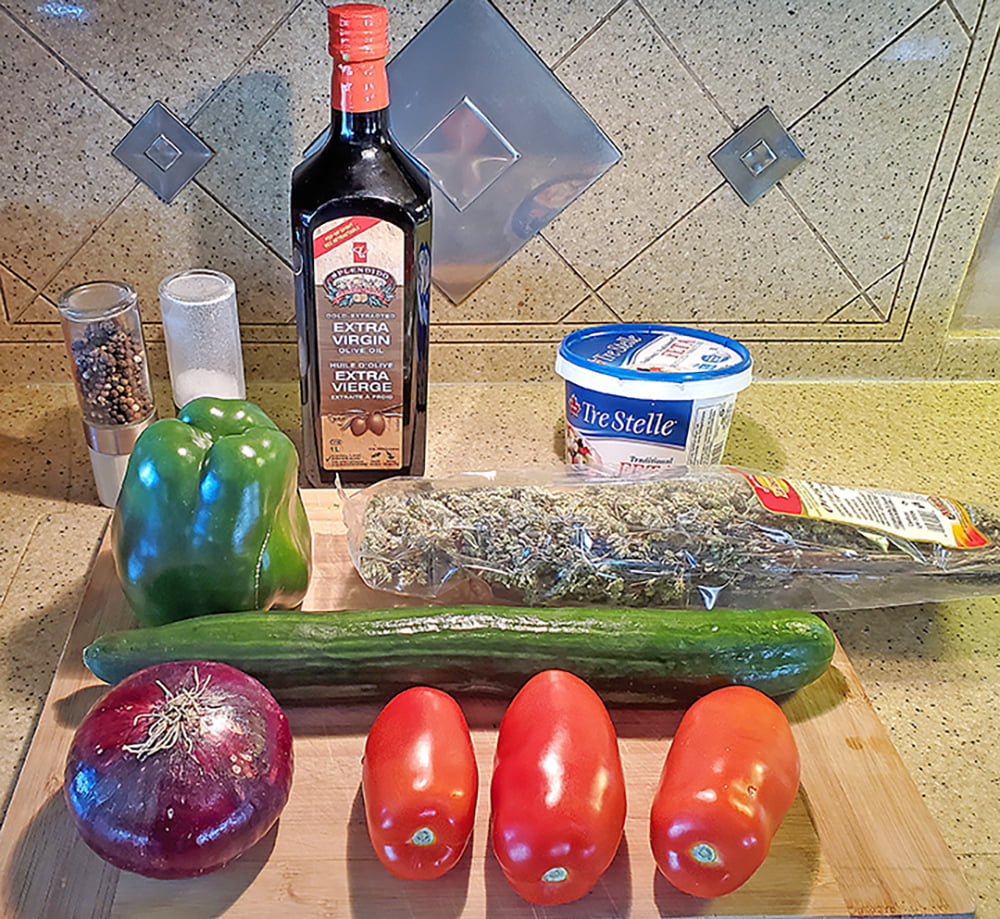 What You need
Tomatoes, large ripe, 10
Onion, red, large, 2
Cucumber, English, 2
Pepper, bell, green, 2 – 3
Feta cheese, in block, 400 gm
Oregano, dry Greek, 100 ml
Sea salt
Extra virgin olive oil (EVO), top quality
Olives, pitted, top quality, black, 36 (optional)
How to Make a Horiatiki Salad
1. Wash and dry the tomatoes, cucumber, and green pepper
2. Clean off the outer skin from the onion, wash, and dry
3. Cut the tomatoes into bite-sized irregularly shaped chunks, removing the core (no seeds)
4. Salt tomatoes lightly
5. Slice the cucumber into 1/4-inch slices, cutting slices in half (whether or not you peel the cucumber is a personal choice)
6. Salt cucumber slices lightly
7. Slice the peppers into thin (1/2 cm thick) rings, removing the stem and seeds
8. Salt rings lightly
9. Remove outer paper layers and the silver skin from onion (if the onion is large, it may be halved)
10. Slice the onion into thin rings
11. Combine the tomatoes, cucumbers, green pepper, and onion in a large salad bowl
12. Sprinkle with oregano
13. Pour olive oil over the salad, and toss
14. Just before serving, place the feta on top of the salad, either as a slice or crumbled
15. Toss in some olives (optional)
16. Sprinkle the cheese with oregano (and pepper if desired)
17. Mix the oil and water and drizzle over the top, and serve
Interested in more recipes to make on-the-road? Sign up for the Explorer RV Club newsletter or keep an eye on our blog.