Can you bake a pan of squares, put together a potato salad or pick up a couple of dozens of gourmet buns? Because that is all you need to do to be part of our family group meals. For example, we just had a family meal for our Father's Day celebration––it was a feast. My boys married lovely women who happen to be sisters. Add five grandkids and our family counts 13. For this party we had a couple of aunties join in, so we were 15. Meals like this are a snap to plan and execute. With a group meal, everyone shares the work, the food preparation, and the cost. Because no one person is doing all the work, we have time for a good visit and an excellent meal.
Make a plan
To plan a group meal, every family needs an instigator: we have more than one in the family. A few weeks back on our closed family chat one of the instigators asked, "What's going down for Father's Day? Who is hosting?" I put my hand up and said, "How about I fire up the Yoder smoker and cook a beef brisket?" There was an electronic round of head-nodding and the rest of the crew wanted to know what they were to bring. There was some chat about side dishes for brisket, desserts, drinks, and appetizers. Once that was decided, we set the anticipated time for appetizers and the meal.
Share the work
Our family culture is to share the work on events like this. Whether we have a group meal at one of our homes or we are sharing a meal while camping in the woods or at the lake. Each family contributes some aspect to the meal and the work is light. Because I would be basting the brisket throughout the night, we hosted at our house. We wanted a BBQ theme, so family members stepped up one by one to make coleslaw, shrimp appetizers, German potato salad, corn on the cob, raspberry chocolate squares, and Chocolate Marquis (some of our crew are top-tier bakers). Others offered to pick up buns and baguettes, and flats of kid-friendly drinks. We each contributed a selection of adult beverages. I made barbeque sauce, smoked, and sliced the brisket and we had a fantastic feasting family time.
Execute the plan
The plan for our group meal was simple. Pick a theme and menu, choose a day and time, and sort out the location and logistics. Carve up the work. Each person does their own pre-planning and works to arrive at the party with the preparation done or the ingredients to prepare on-site. The shrimp appetizer was prepared just as guests were arriving.
Enjoy the rewards
Our guests that day ranged in age from 18 months old to 70+. Everyone had a chance for a visit before, during and after dinner. Our goal is to have a great meal, while at the same time giving each one a chance to build relationships and have a chance to talk about what is going on in their lives. We have sidewalk chalk, outdoor games, and a bubble generator for the kids. Some of the family brought extra folding chairs to augment seating for the 15 of us.
The Shrimp Appetizer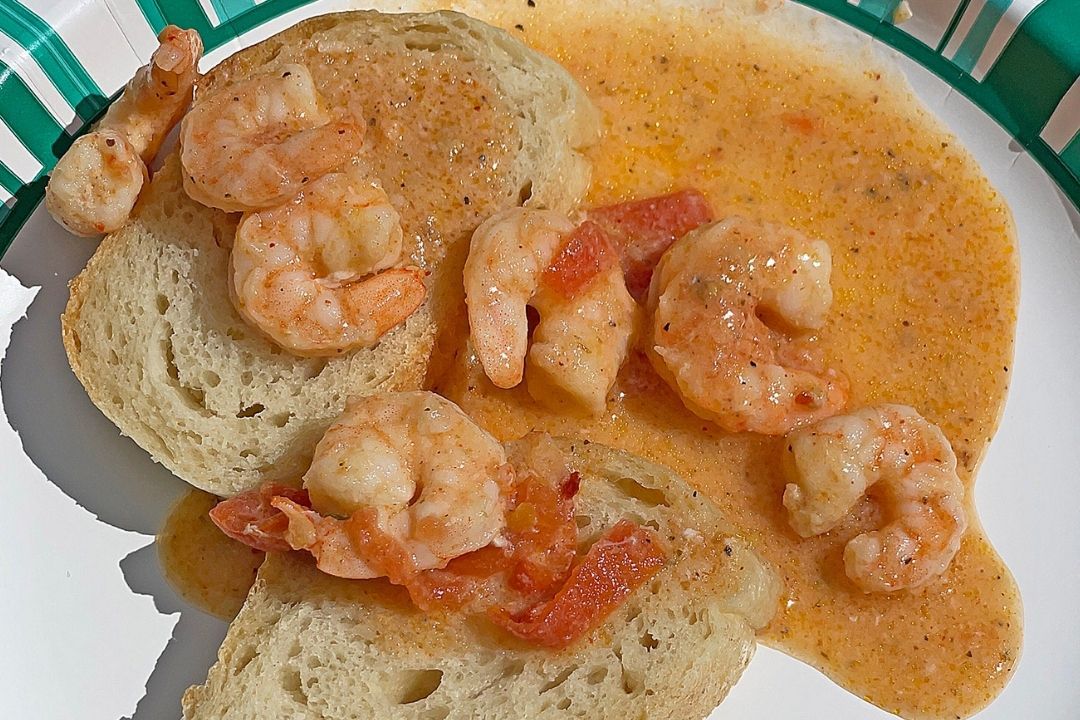 We planned a leisurely meal starting with an asiago and artichoke dip (from the store) and a baguette, followed by a magical shrimp dish with more baguettes for dipping in the sauce. We had a lovely meal followed by amazing desserts and there was time along the way to chat and listen. Isn't that what a group meal is all about?
Tools and Equipment
Cutting board
Sharp kitchen knife
Garlic crusher (Optional)
Wooden spoon
Saucepan large enough to hold all of the ingredients
Teaspoon and Tablespoon measures
Ingredients
4 Garlic cloves finely diced, or smashed
¼ cup Olive oil
Two tomatoes, chopped
Juice from half a lemon
1 teaspoon Saltwater lime chilli seasoning
1 tablespoon of Garlic Fire Small-batch hot sauce (Or something similar that suits your taste buds.)
900-gram Package of frozen peeled shrimp
1-2 French baguettes, sliced 1.5 centimetres thick
Method
1. Assemble and prepare ingredients.
2. Add olive oil and the rest of the ingredients into the saucepan.
3. Place the saucepan over high heat and stir occasionally.
4. When the sauce is boiling, and the shrimp turn from translucent to opaque the shrimp are done.
5. Serve hot with a slice of baguette.
6. Sit back and enjoy every bite.