My family's favourite camping memories involve meals cooked over the fire, and several of our traditions have developed around them. My oldest son, now with three kids of his own, likes to raid the pantry, grill sausage, and cook a shared batch of mac & cheese on the campfire––a before-bed snack at 11 PM. He has yet to hear a complaint.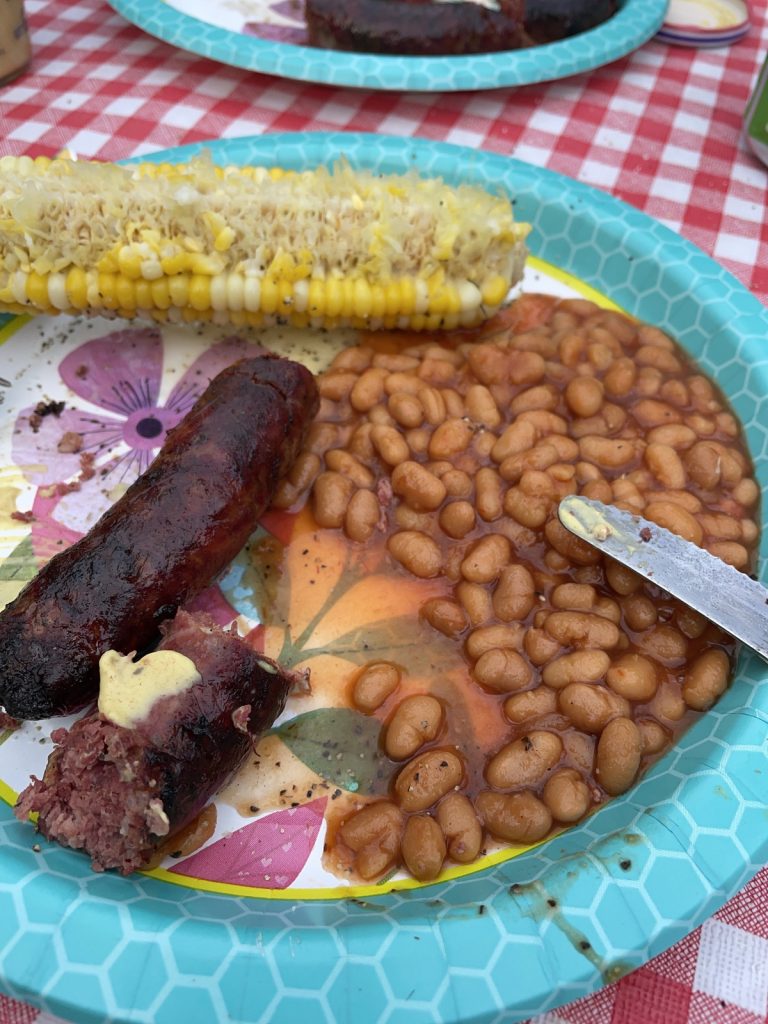 Stocking your camping pantry requires some forethought.
This means planning a menu and finding the balance between having the ingredients you need when you need them and having shelves full of expired products you will not likely use in a season. Start with your pantry staples. These items are loaded on the RV's first trip and replenished throughout the season. When there's a particular dish you want as a treat for your crew, stock your pantry with unique items. This is where the menu comes in.
The menu and preparation method drive the pantry list.
While planning a full menu for each camping trip might sound a like a lot of work, it helps you get more of what you want on your fork. When our family (a combination of four families, each with their rig) plans a trip, we often divide the meals. Each family will host at least one group meal. That way, everyone gets a break from meal planning and execution. We need the plan to make this work, which drives what's in the pantry.
We have three categories of pantry items: dry stock ingredients, emergency supplies and unique items for this trip's menu supplies. Create a master pantry list to be edited over the camping season. Add an evergreen shopping list to remind you what needs to be added and replenished.
Dry stock items
Dry stock items are all those paper products that stay in the RV. Add to this list ingredient that gives you some food preparation options, spices and seasoning blends, and mixes. Storing dry foods like rice, flour and cereal in durable and sealable containers will keep mice and insects out of stored foods. What you pack will be determined by your camping menu. Are you a pancakes-from-scratch or pancake-mix kind of camper? The answers to this and similar questions will determine what you pack in your pantry.
Emergency supplies
Several canned items fit under the emergency supplies category and are perfect for keeping on hand in case a few friends join you for dinner or you add a day or two to your excursion and don't want to go to town for groceries. Tinned baby potatoes, for example, are a tremendous addition to a campfire dinner; drain and pan-fry in butter. Look at the canned seafood aisle at your grocery store and consider what might suit your RV guests. A bit of inventive planning will keep you well-prepared for surprises and give you some flexibility come dinner preparation time.
Our meals are almost exclusively cooked on an open fire. Whole meat pieces or cubes on skewers are cooked on live coals. Potatoes and other roast veg are wrapped in foil packets and roasted above the fire, or whole vegetables like squash, beets or rutabaga get double-wrapped in heavy-duty foil and tucked in amongst the red coals. Rice is simmered over a slow fire, and pasta is boiled over a fire too. Unless a proper brunch of pancakes, sausage and eggs is planned, breakfasts are typically cold, and lunches are a make-your-own-sandwich deal: assorted sliced meats and cheese. Dinners are grilled or fire roasted. We design our pantry around this, with enough additional inventory to deal with some fly-ball requirements.
What to keep in your RV pantry
Here's a suggested list of pantry stock to get you started.
Paper and other
Bags, resealable (Ziploc)
Band aides
Batteries
Black tank / septic treatment/conditioner
Cling film
Laundry/dish detergent
Dishcloths (by the roll, think j-cloths)
Firestarter (cubes)
Foil pans and lids
Heavy-duty aluminum foil
Hand soap and sanitizer
Mosquito coils
Napkins
Paper towels
Pot scrubbers
Silicon paper
Skewers
Tablecloth
Tissue
Toilet paper
Grocery
Brownie Mix (Ghirardelli brand from Costco is our preference)
Chicken and beef powdered stock
Cookies (we love using 'Celebration' cookies to simplify s'mores)
Flour, both self-rising flour (perfect for pancakes, biscuits, cake batter and flatbread) and plain flour or pancake mix
Hot beverages (coffee, tea, hot chocolate, instant cappuccino)
Ju-jubes and red licorice (add your preference here…)
Mac and cheese packs
Marinade packets
Marshmallows
Oats, instant packets
Olive oil
Panko crumbs
Pasta
Pork and Beans
Potato chips
Potatoes (canned and dried)
Premixed batches of pancakes, biscuits or crumble topping for baked desserts
Rice
RTS Soup
Spices and blends (we regularly use Montreal chicken spice, Montreal beef, vegetable, and fish spice) cinnamon, coarse black pepper and coarse salt (50/50 mix)
Sugar (white and brown)
Tinned seafood (canned salmon, sardines, shrimp, mackerel, smoked oysters etc.)
Vanilla (for pancake batter)
Fridge
Butter
Cheese
Eggs
Hot sauce
Jam
Ketchup
Mayonnaise
Mustard (yellow and Dijon)
Pate
Salsa
Sliced meats
Sour Cream
Think about what you need to keep as regular stock in your RV and what you want access to for making meal preparation memorable, satisfying, and straightforward. Camping season is just a few months away. What are you going to add to your pantry this year?